24. December 2015.
We wish you all a merry christmas and a happy new year!! Thank you for the great year 2015.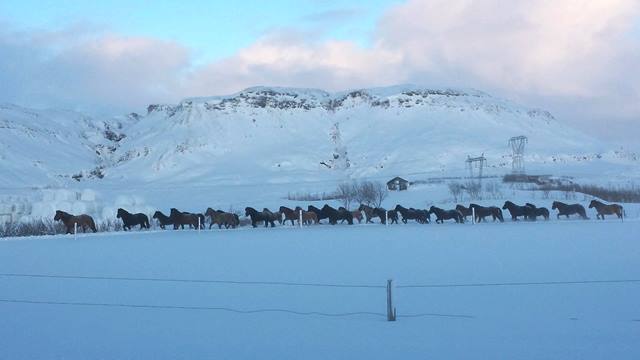 20. December 2015.
One and a half years ago we sold our stallion Draumur frá Vorsabæ 2 to Nadja Andreewitch in Sweden. Draumur was born 2012 and is son by Kolbrún and Spuni frá Vesturkoti. Nadja has sent us many photos of Draumur and is very happy with him. This year he had 24 mares and he was the fifth most popular stallion in Sweden to breed with mares of a total of 198 stallions! Draumur was trained last autumn and is promising, well tempered and shows high action.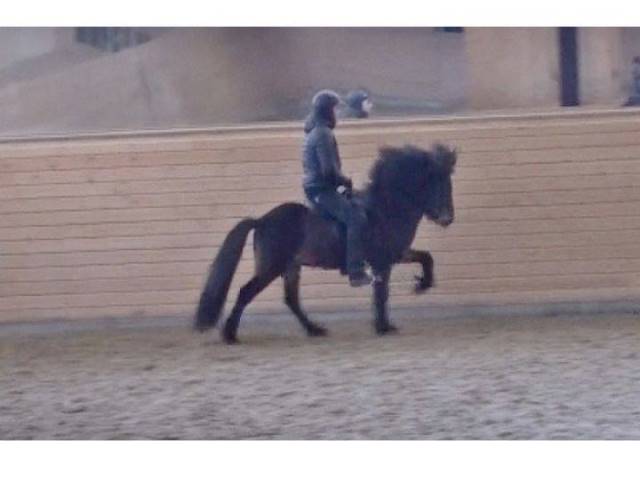 18. December 2015.
This year we sold many horses from our farm. It is always important for us that the new owners are happy with their horses and it is constantly our aim to find the best horse for each person. We sold the horses to Germany, France, Norway, Sweden, Spain and of course in Iceland.
5. December 2015.
We have started to train the young horses who will turn 4 years old. Six of the seven are offsprings by Hreyfill and they are very promising, calm, beautiful with high movements. Then we have Kappi frá Vorsabæ 2 who is son of Kinnskær frá Selfossi (8,25) and Snerpa. He is an interesting 5-gaited gelding and well built. We are also training some of the older horses now after their autumn break.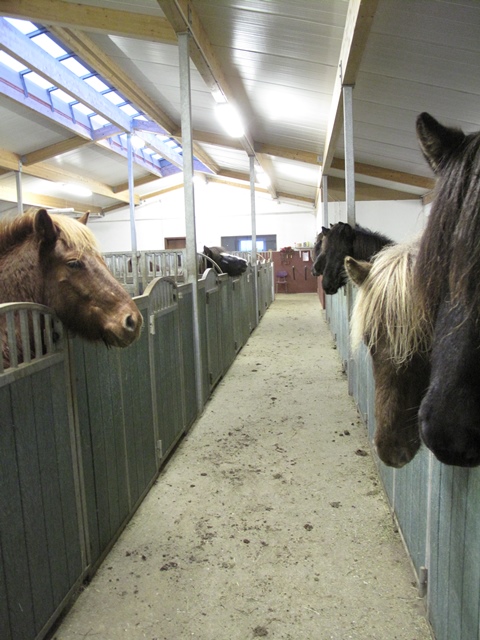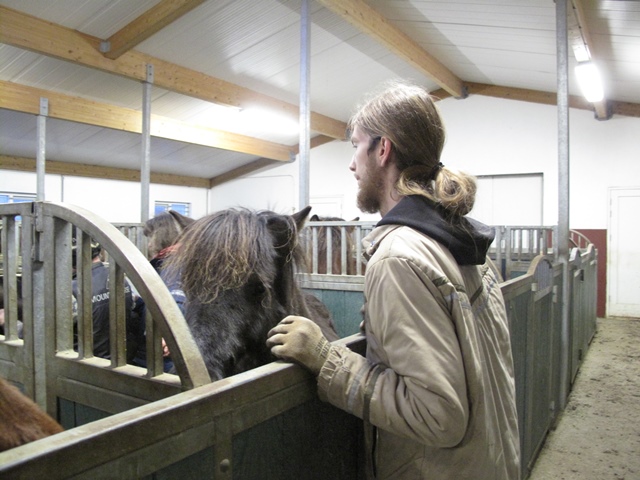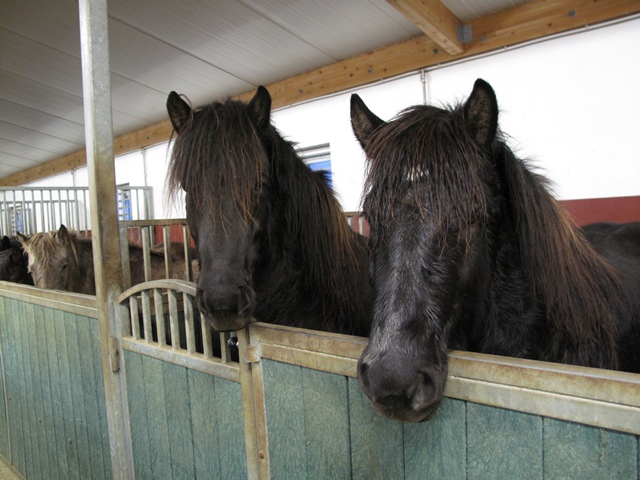 20. November 2015.
The sunrise was just amazing this morning! Here you can see photos from our farm and our holiday house.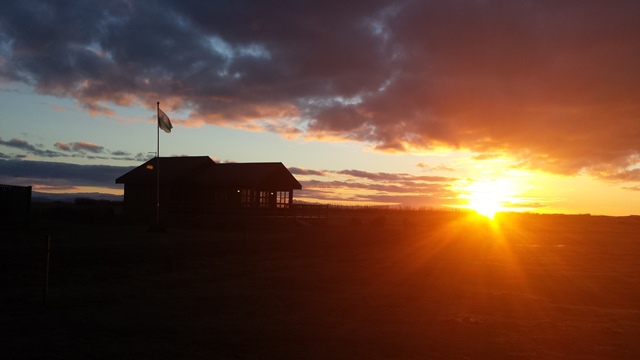 9. November 2015.
Sigurbjörg Bára has arrived back home after being in France for the last 7 weeks. She stayed at the icelandic-horsebreeding farm Schlossmatt. The owners are Sophie and Martin who we have known very well for many years. This was a great oppurtunity and experience for Sigurbjörg to get to know french culture and also how everything is with the icelandic-horse in France. Last week she took part in the big horse show Equita Lyon in France. The show is held every year where all the horse types are shown and it is for 5 days in 6 ridinghalls.
Sigurbjörg, along with some french people presented the icelandic horse at Equita-Lyon. What made this also very special for Sigurbjörg, was that she showed the stallion Stirnir frá Vorsabæ 2 who was bred on our farm.
Sigurbjörg says: "I could see that the icelandic horse really attracted the attention from the audiences, the audience was smiling and clapping for us in the shows. I saw that the people knew that the icelandic horse is a special horse. I heard them saying "Look! There is the icelandic horse!" The people did not see "a little pony", they saw The fantastic Icelandic horse. I think it is a good oppurtunity to present the icelandic horse at Equita-Lyon so the people can see how much the icelandic horse has to offer. People came to us in the stables and they were curious about the icelandic horse and wanted to learn more."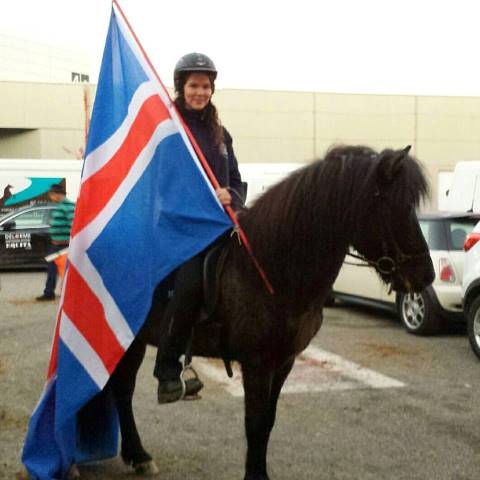 28. Ocotber 2015.
Jón Emil our son has arrived back in Iceland after being in America for 2 months with his music band. He has been living in Reykjavík the last years and now he has moved to our farm and will be working here and start school in Selfoss. His girlfriend, Celina Schneider has also moved to Vorsabær 2 and has started to work on our farm again. She was working here the last summer and after that she worked on another farm in North-Iceland. It is nice to have them both back home and we always have enough for them to do on the farm. Every year at this time we clean and wash our whole stable and this year it was time to paint it also.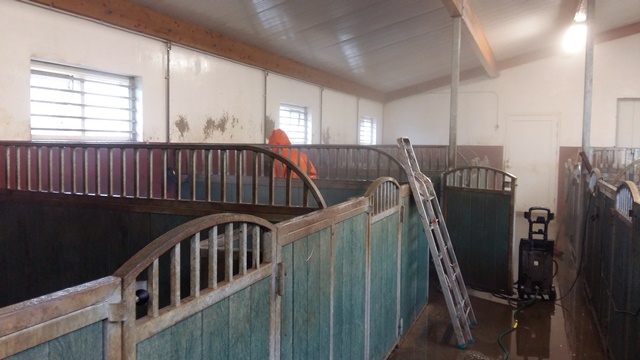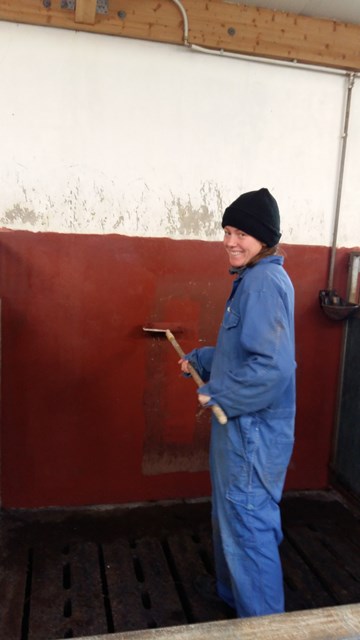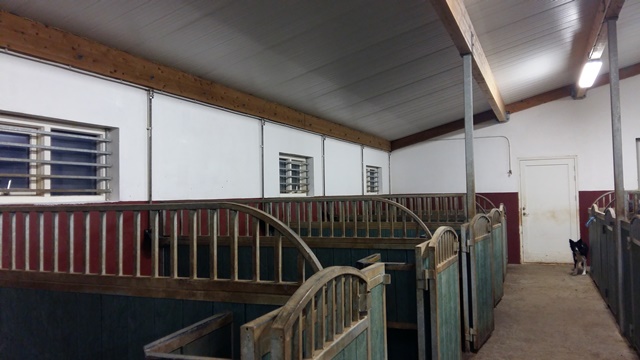 25. October 2015.
Our dog Flekka is always energetic and wants to help us to gather our sheep, horses and cows. Flekka is border-collie dog and is really good at gathering the sheep home in September and October.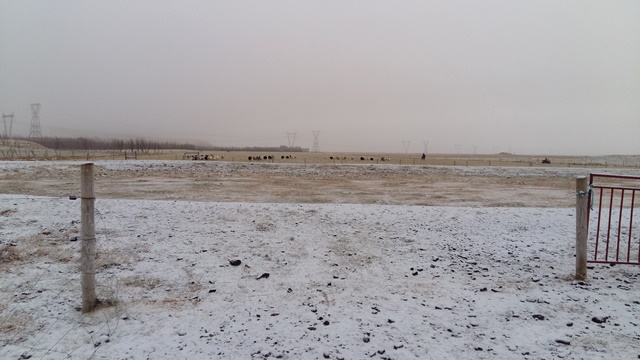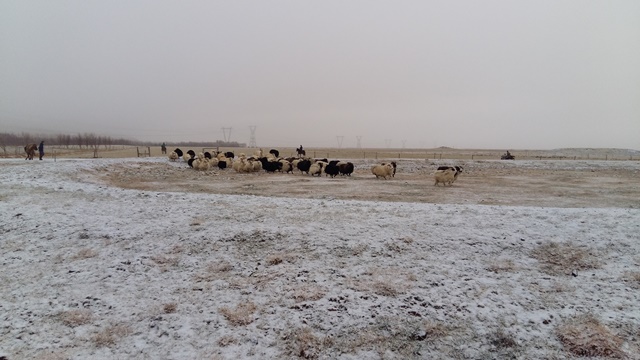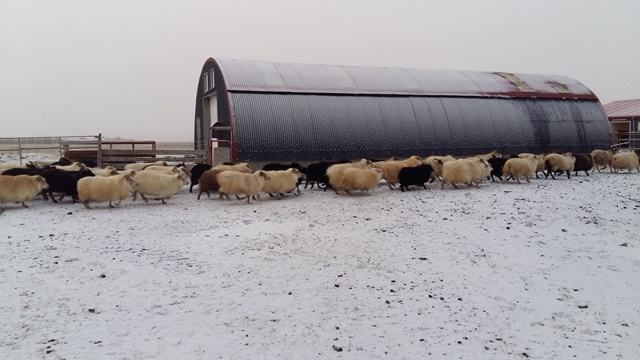 10. October 2015.
We the couple, Björn and Stefanía, went to Faroe-Islands for the first time and we were there for 5 days. It is not often that we travel to other places, because we don't have much time for that and we need someone to look after our animals on the farm. Our daughter Margrét and her husband Kiddi wanted to look after our farm and they did the farmer's role fantastically. We decided to travel now to celebrate Björn's big birthday and also because everything is more quiet at this time of year. It certainly it was a great trip and we were lucky with the weather.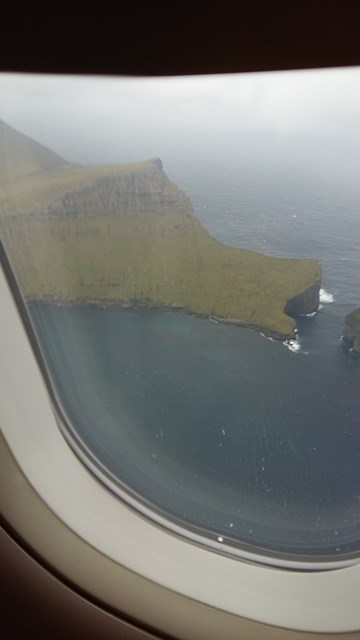 23. September 2015.
We took some photos of our stallions out in the field today.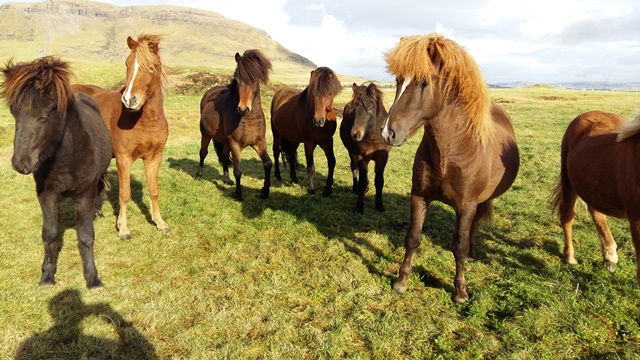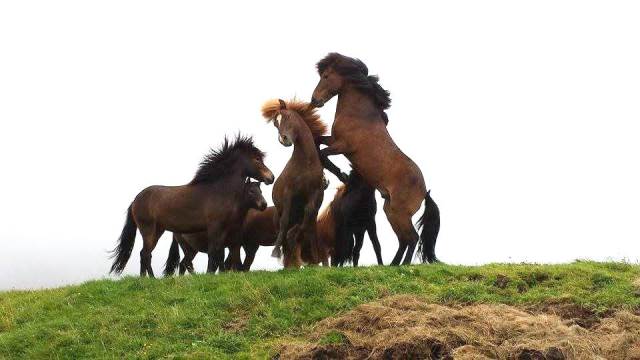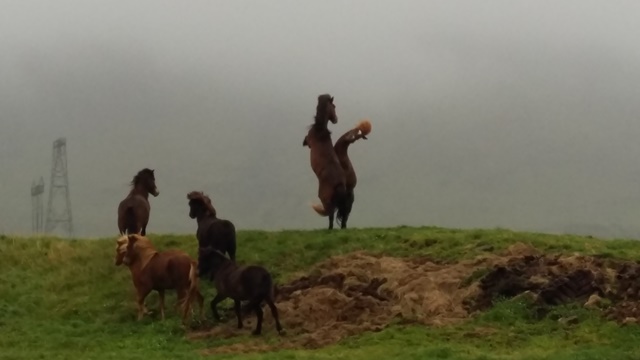 18. September 2015.
Sigurbjörg Bára has been training her mare Eva frá Vorsabæ 2, which we gave her as a graduation and birthday gift when Eva was a foal. Eva is 5 years old now and is the first offspring by Evíta. When Sigurbjörg and Evíta where both young, they had many good moments together and for example competed often with great results. The father of Eva is Hlekkur frá Lækjamóti, son of Álfur frá Selfossi. Eva is a great mare with high movements and it will be nice to see them together in the future.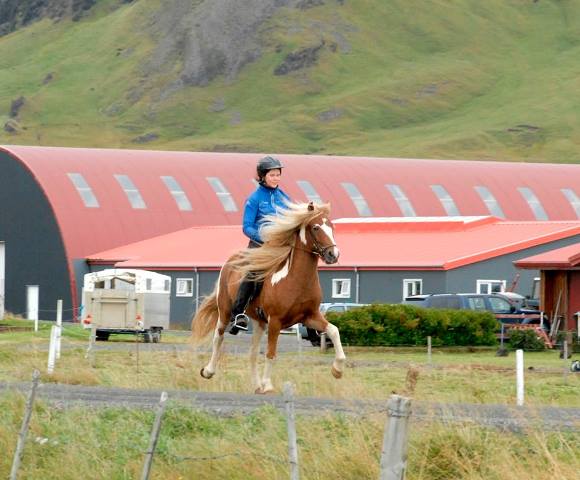 15. September 2015.
This summer was a great success for our stallions Forseti and Hreyfill. Forseti is now 19 years old and he got 18 mares to cover with last summer. 100% of his mares are confirmed pregnant.
Hreyfill had many mares last summer and 90% of all his mares are confirmed pregnant.
Both Forseti and Hreyfill have facebook sites and you can see more about it here: https://www.facebook.com/forsetivorsabae2/ https://www.facebook.com/hreyfillvorsabae2/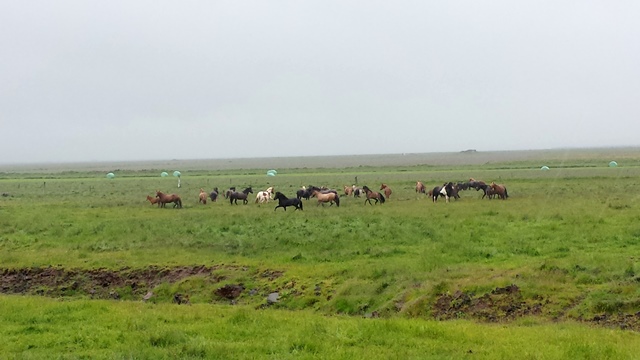 12. September 2015.
It is a tradition in Iceland in the beginning of September every year to have "réttir". Réttir is sheep round-up and one of them is held close to our farm. The sheeps stay up in the mountains over the whole summer and in September some people gather them together and réttir is held. The farmers and owners of the sheep take them home at this day. However, we keep our sheep on our fields and not in the mountains, but we always ride to réttir every year to meet the people and have fun! Sigurbjörg Bára went up to the mountains before réttir and helped with gathering the sheep. She took the mares Hrefna and Þrá with her and she thought it was a really nice experience!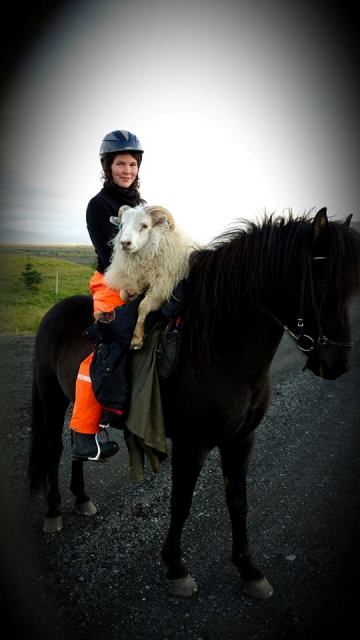 9. September 2015.
Our son Jón Emil is travelling now together with his music band to America and Canada where they will have many concerts. The name of the music band is Dynfari and they will play there the next two months, so they will see many different things. This will be a great experience for him and his partners and a lot of driving. We hope that America will be nice to the band Dynfari and we look forward to seeing Jón Emil again.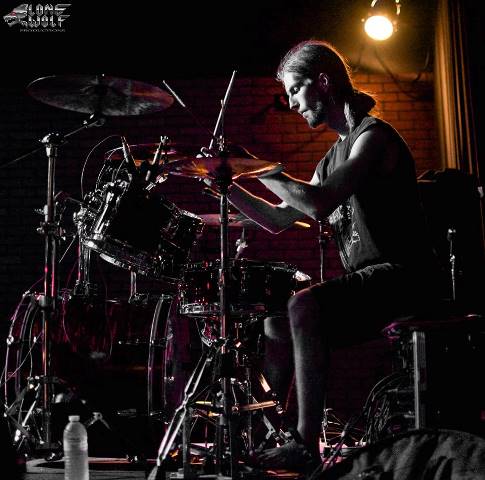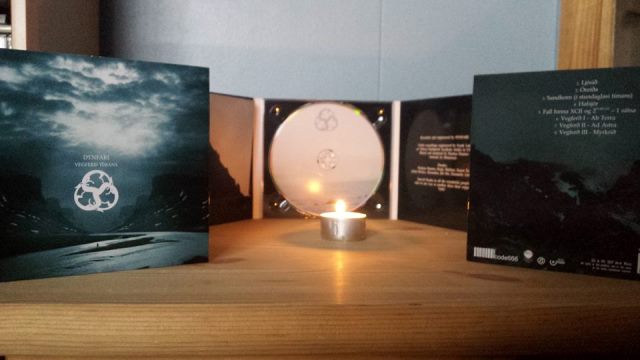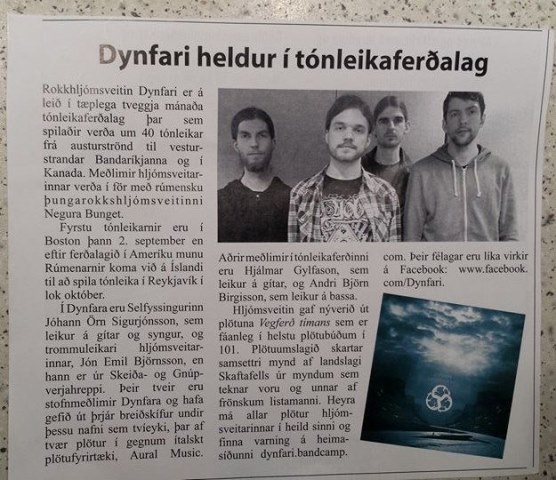 29. August 2015.
There was a lot to do with our accommodation and country life visits. Many of our guests who rent our cottage like to walk around the farm and look at the animals and many of them also like to go horse back riding. Some other people contact us and want to look at our farm and the animals and book a riding tour. We are lucky with our horses that we have for our guests, they are well trained and are calm and easy. We have bred them all and we have known them since they were born. We have horses for both inexperienced as well for experienced riders.
We provide personal service. We always begin inside our ridinghall where we teach our guests all the basics about riding and the people can get to know the horses. Then we go outside for a riding tour in the beautiful nature and ride the famous gate, that the icelandic horse is known for: Tölt!
Here you can see some photos from our riding tours this year.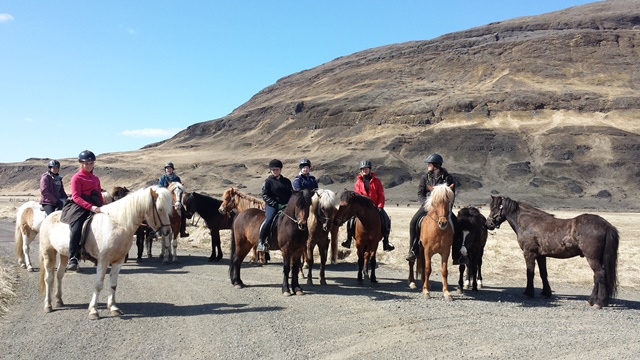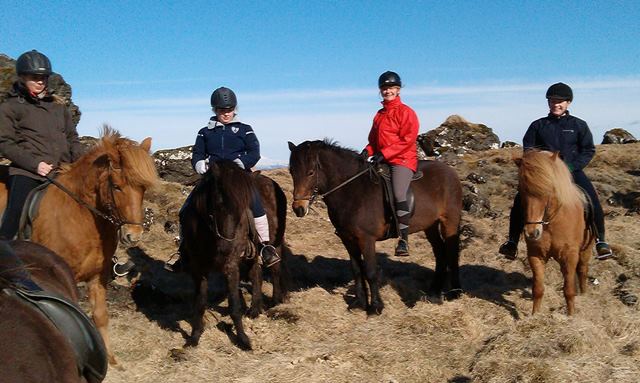 22. August 2015.
Today the last foal of the year came into the world. Evíta had her foal and it is a black stallion-foal, the father is the high judged stallion Trymbill frá Stóra-Ási. Evíta was with another stallion last summer but it turned out later that his sperm did not work. So after that, late in the summer, we decided to breed Evíta with Trymbill and that's why her foal came so late this year. The foal is pretty and shows both trot and tölt.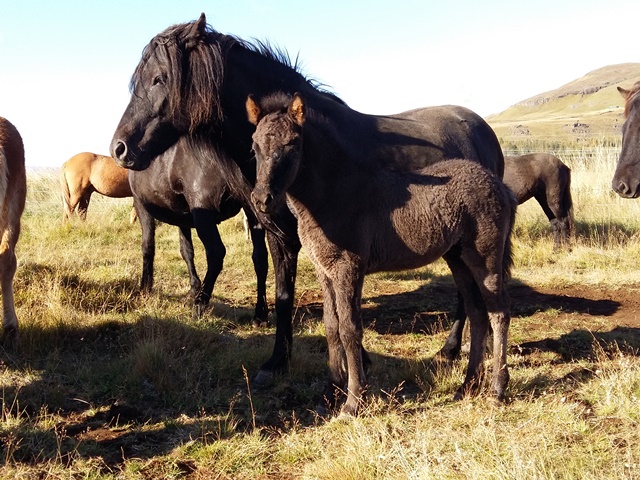 20. August 2015.
We went on a horsetrip. With us were Nanna and Sophie who have been helping us on the farm and also our neighbour Hermann at Efri-Brúnavellir along with other friends. We took many hand horses with us and we were riding for 3 days. We slept one night in a cottage up in the mountains where we cooked salmon for dinner and had a great time.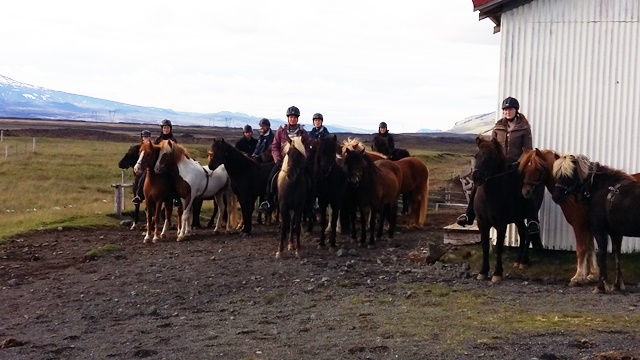 16. August 2015.
This summer we went two times to the village Sólheimar with two horses. There was an open-door day and many people of all ages could get together and have fun. We took our wonderful mares, Spóla and Drottning, who are used to seeing many different things and are easy and calm for everyone. Some of the people were riding horses for the first time and it was a great pleasure to introduce them to the horses.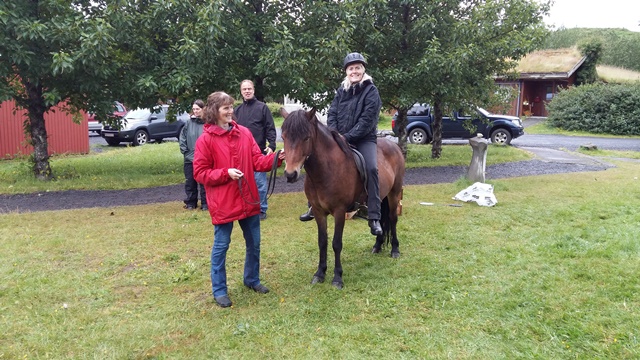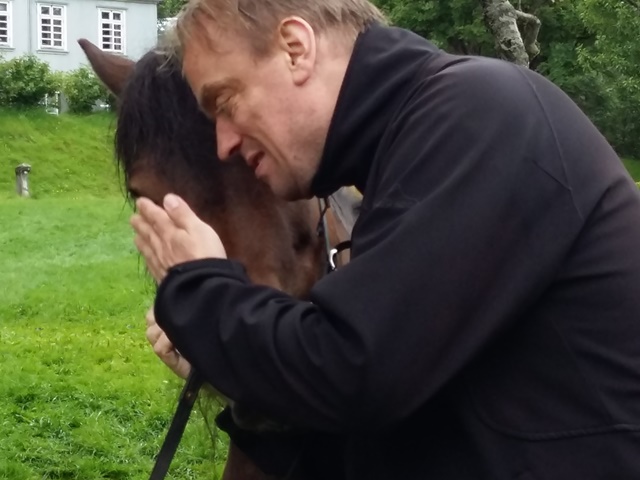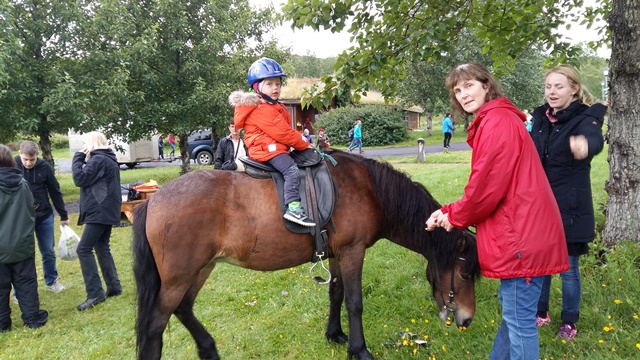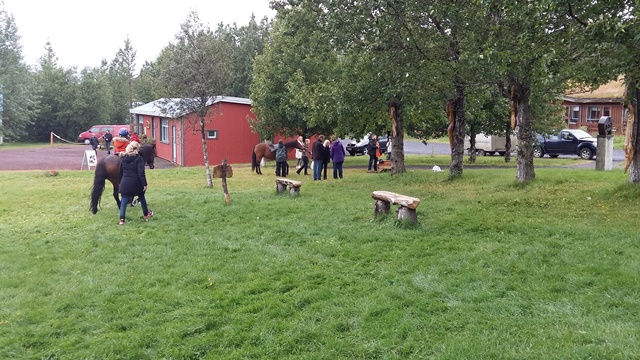 10. August 2015.
We have some young promising stallions. One of them is Vitnir frá Vorsabæ 2 chestnut with two stars 4 years old, he is son by Kolbrún and the 1.price stallion Kjarni frá Þjóðólfshaga. He is beautiful and has very big and smooth movements. Vitnir was trained last winter and he was easy to handle and positive to learn. He is a fourgaiter and the tölt is easy for him.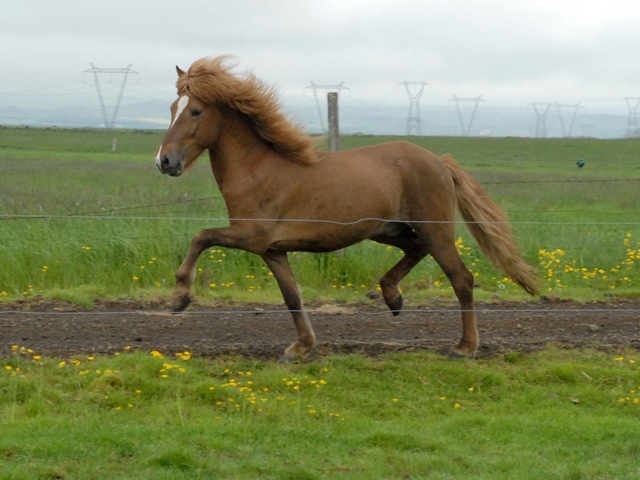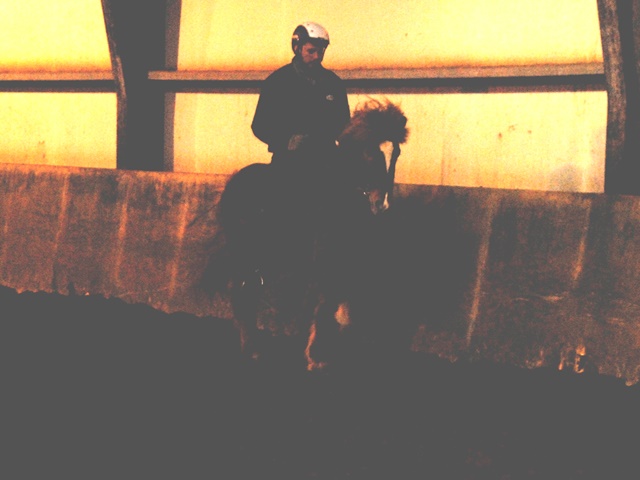 Then we have the stallion Fylkir frá Vorsabæ 2. He is red with a blaze and is 2 years old by Kolbrún and Glóðafeykir frá Halakoti the world champion! He is lightly built with good neck and back. He showed us today his nice movements in trot and tölt.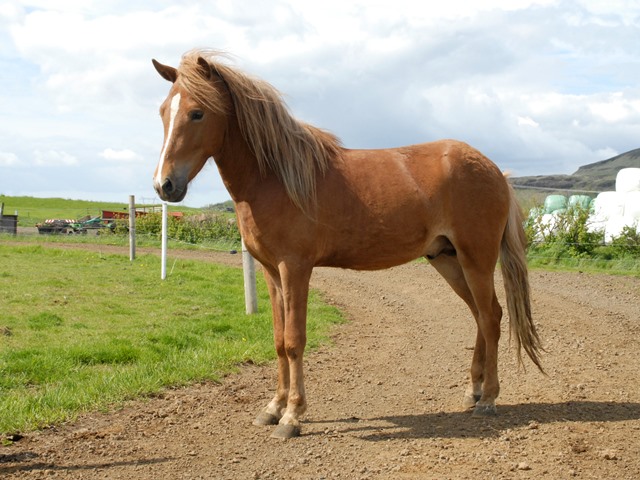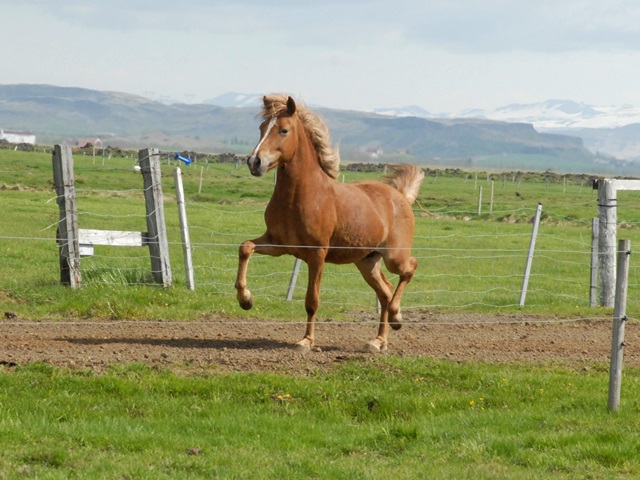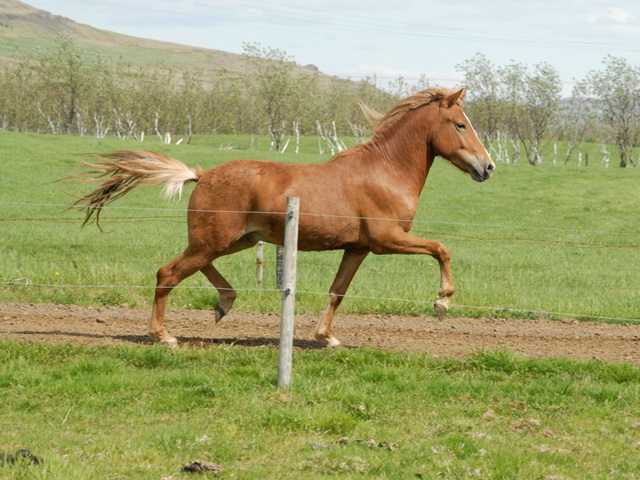 1.August 2015.
These lovers came to us and had a ridingtrip on our wonderful horses, Drottning and Pinni.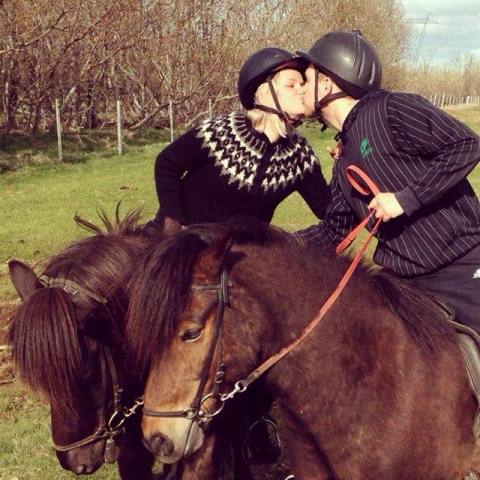 25. July 2015.
We have many horses in training this summer and it is going well. We are only training the horses that we breed and own. We like to train our 4 year old horses in the summertime and we have trained them now from the beginning of June and it is going well. We are also training older horses and then we also have experienced horses for our customers. We have great trainers this summer, these are Nanna Jessen from Denmark, Celina Schneider from Germany and our daughter Sigurbjörg Bára.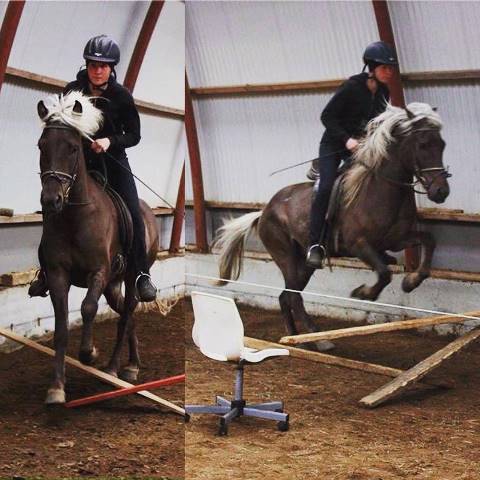 6. July 2015.
Hrina had her foal today and it is a bay dun stallion-foal. The father is the 1.price stallion, Þeyr frá Holtsmúla who is son by Stáli frá Kjarri. The foal is big with long legs.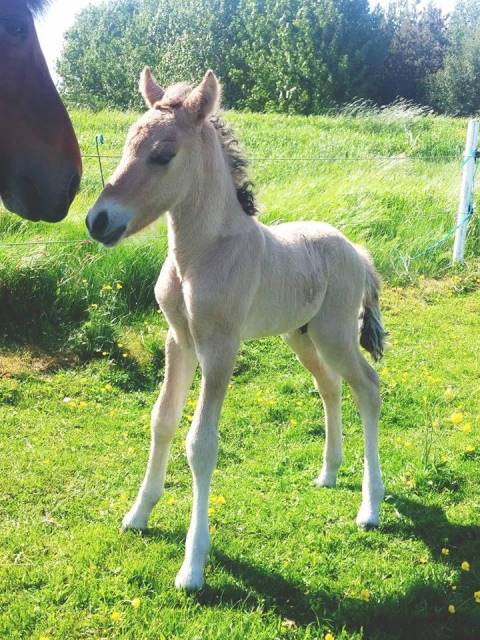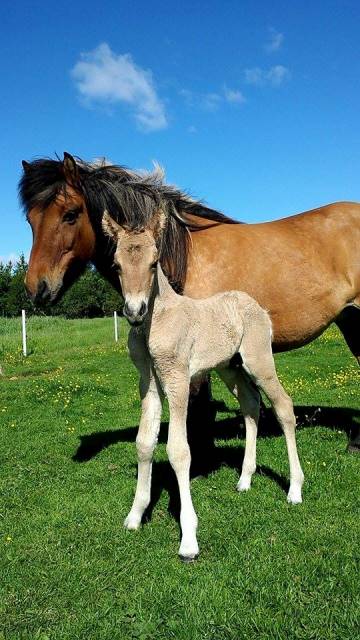 6.July 2015.
We sold two horses to Spain for the first time. The horses are; Bassi frá Vorsabæ 2 , his mother is Baka frá Bár and the father is Forseti. The other one is Blíða frá Vorsabæ 2 , her mother is Gola frá Bár and the father is Forseti. They are both 4 years old and were trained a little bit last autumn where we got to know them better. Before Blíða left Iceland, she was covered with our stallion Kappi frá Vorsabæ 2, who is son by first price parents; Snerpa and Kinnskær frá Selfossi. The owners are Jos and Anique and they think that Blíða's foal might be the first icelandic horse to be born in Spain. The future for Blíða and Bassi will be exciting and the owners are happy with them.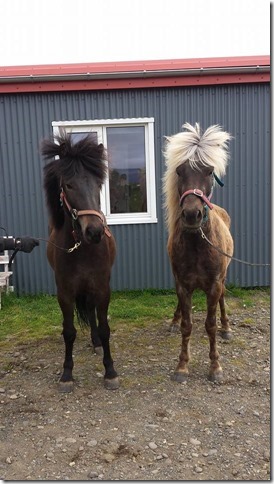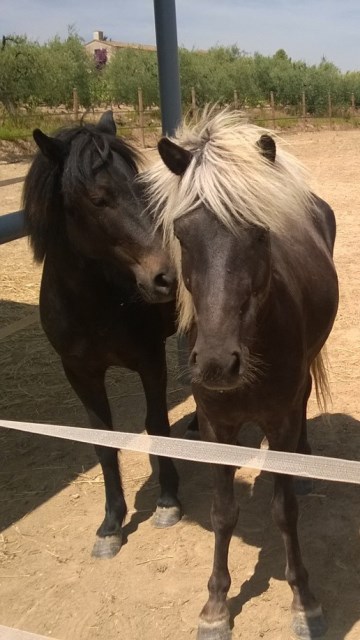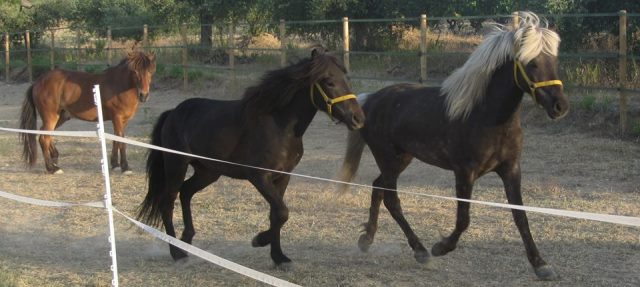 19.June 2015.
Today two new foals came into the world. Silfurdís had her first foal last night and the father is Hreyfill. It is a black mare-foal and the breeder and owner is Sigurbjörg, she was so happy about the mare-foal so she decided to breed Silfurdís with Hreyfill again this year.
While we were looking at Silfurdís'foal, we saw that Fjöður was starting to have her foal. We got the camera right away and took pictures of this wonderful moment. Fjöður had a black stallion-foal with two stars, he is beautiful with long neck and the father is Hreyfill.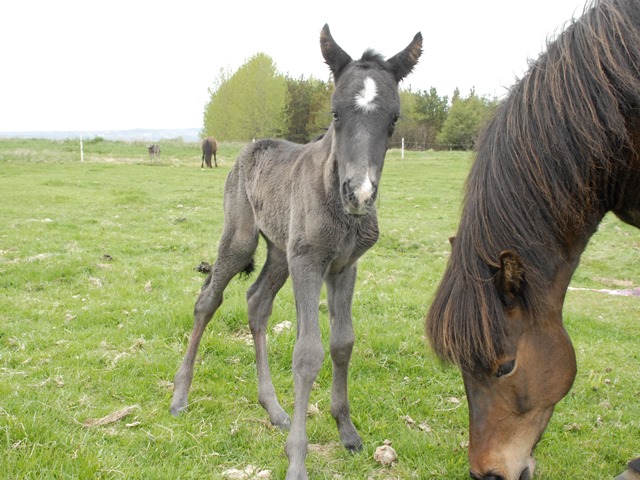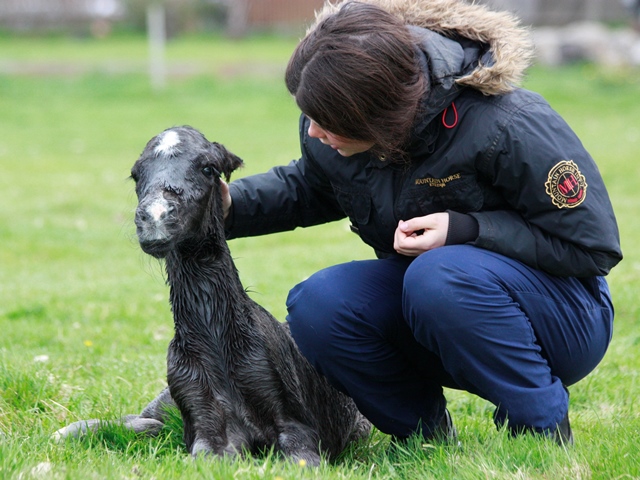 18.June 2015.
Now Snerpa has had her foal and it is another stallion-foal. He is red with two stars and is big and beautiful, like all Snerpa's offsprings. The father is Hreyfill.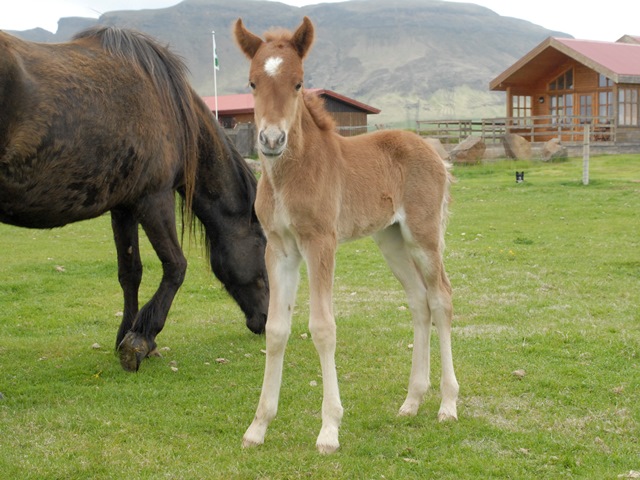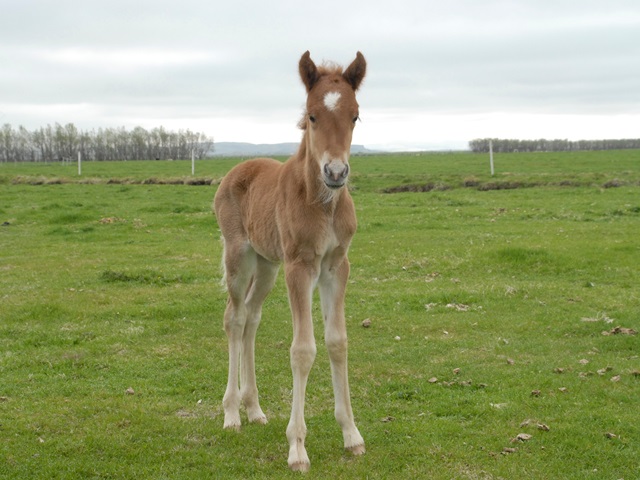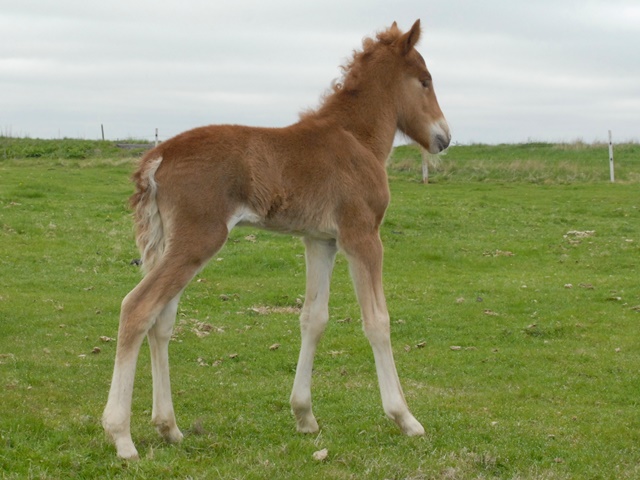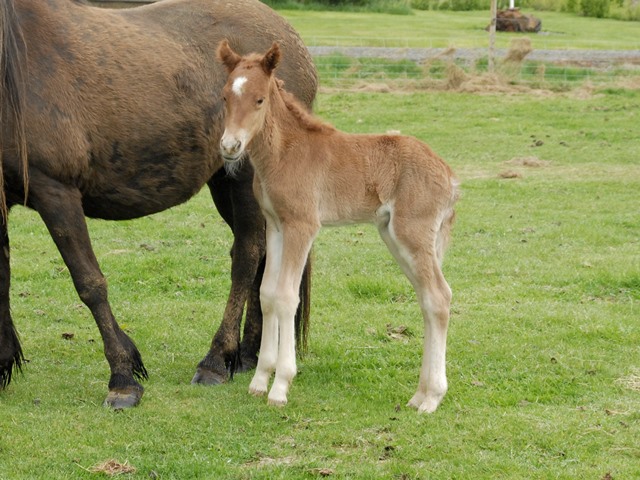 14.June 2015.
All our 4 goats have had their baby-goats this year. Six baby-goats were born this year, only one of which was female. We were hoping for more females because we don't have many of them. The baby-goats always attract attention from our guests who see our animals, especially the kids. In fact they are always so adorable, calm and nice to look at!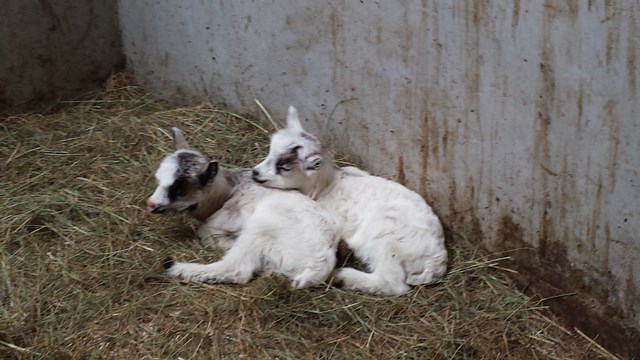 12.June 2015.
Our first foal this year by Hreyfill was born. It is a black stallion foal with two stars and the mother is Brúnblesa frá Krossi. The foal is very beautiful and promising.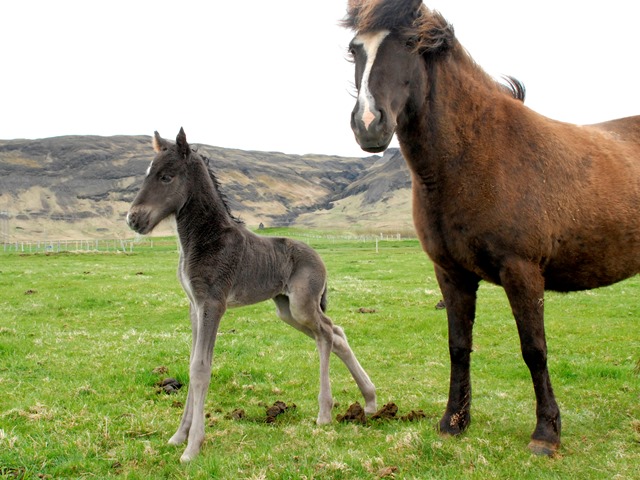 10.June 2015.
This morning we saw through our window a very light and beautiful foal on the field where the breedingmares are. We went right away to see our newborn foal with stars in our eyes. It is a stallionfoal, his mother is Molda and the father is Þeyr frá Holtsmúla, both 1st price. We are very happy about the color, but it is a really rare color: Buckskin and silver dapple. The foal has a long neck and he is a great prospect as a future stallion.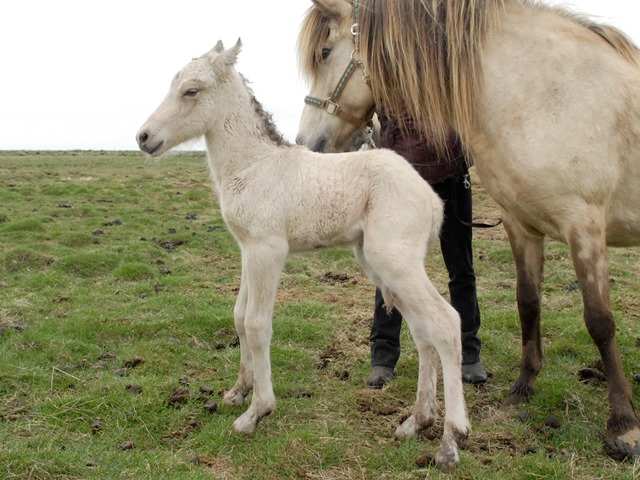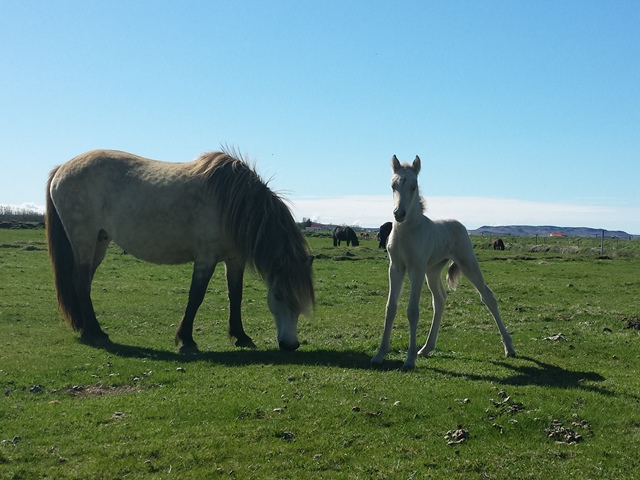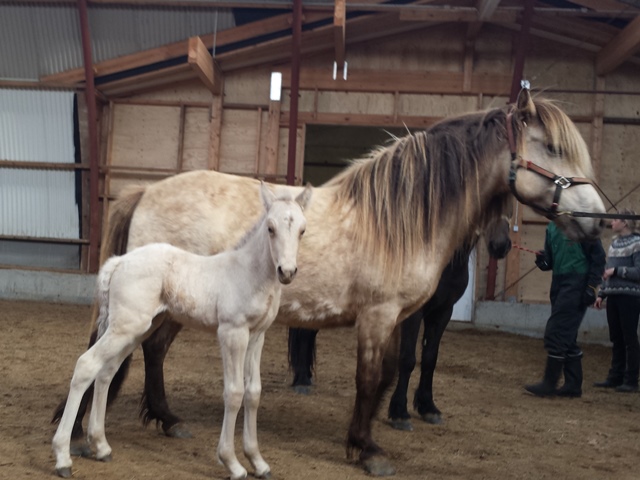 8. June 2015.
Hreyfill participated in his first B-flokkur Gæðingakeppni competition. Siggi Óli showed Hreyfill and they did wonderfully! After the first preliminary they were in the 1. Place with the score of 8,73 and they day after in the finals they showed what they have got and won the competition with a score of 8,97! This was a great competition with many good horses and riders.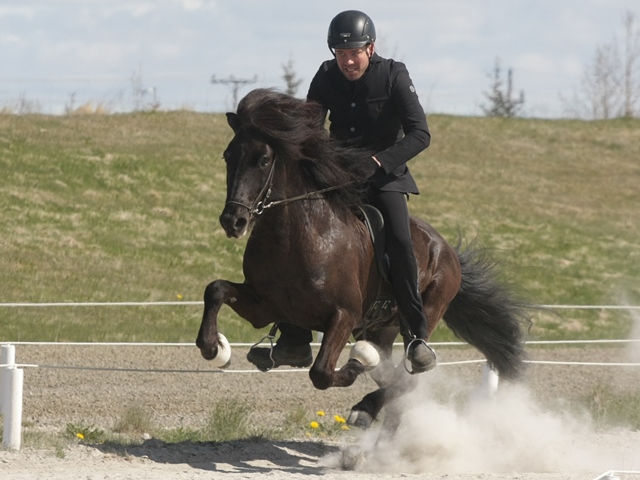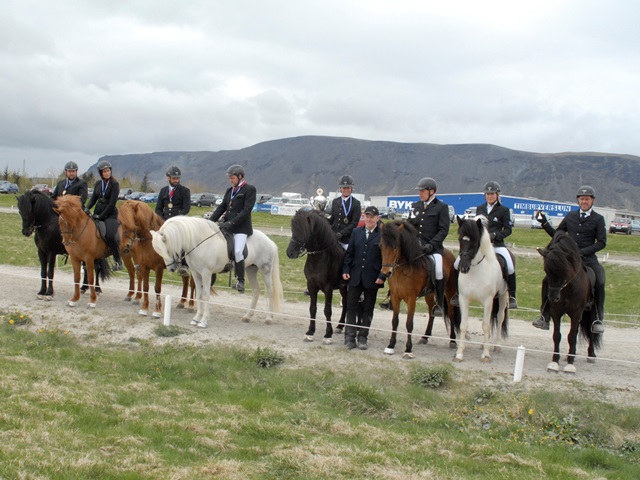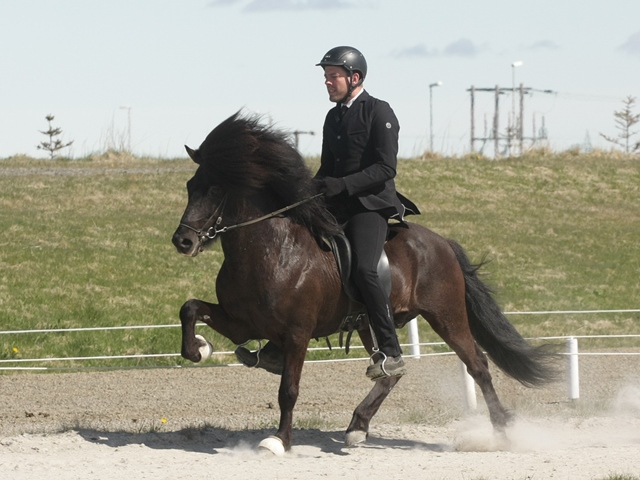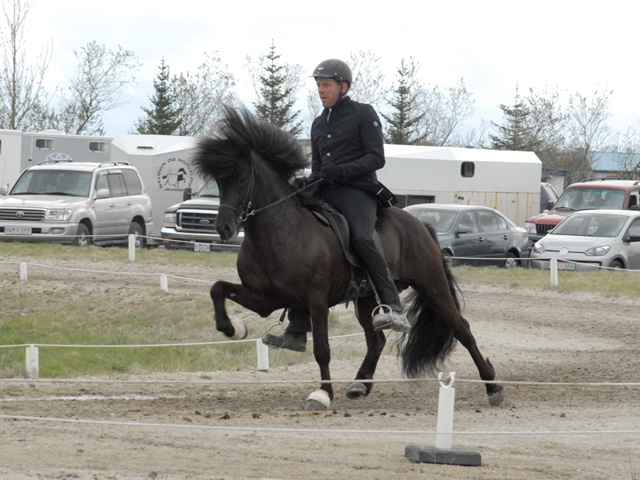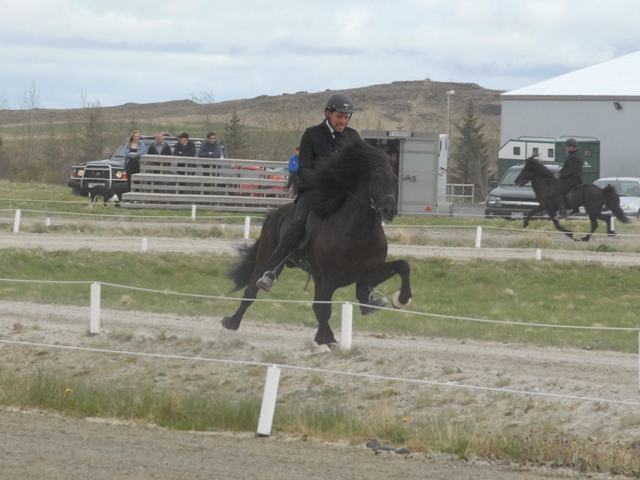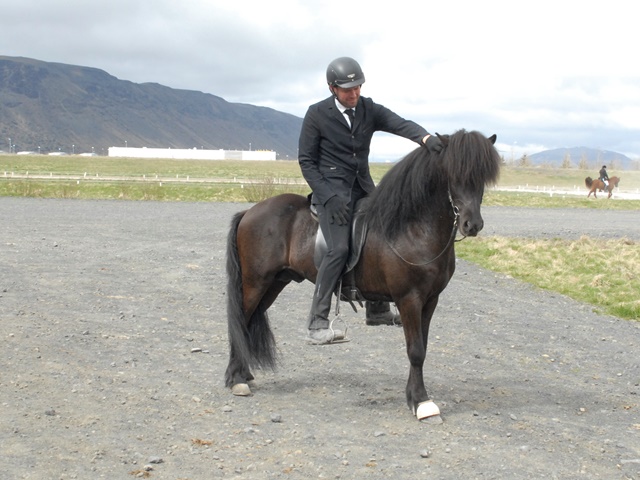 7. June 2015.
Today was the graduation party hosted by Sigurbjörg Bára. Sigurbjörg graduated from the school in Selfoss in horse-class and sociology-class in May. The whole family came to the party which was held in our house at Vorsabær 2. We are very proud of her and we wish her all the best!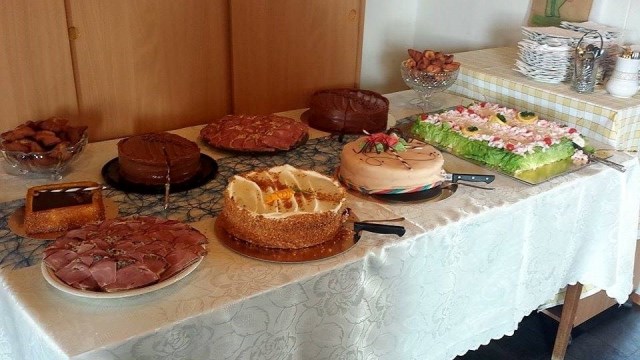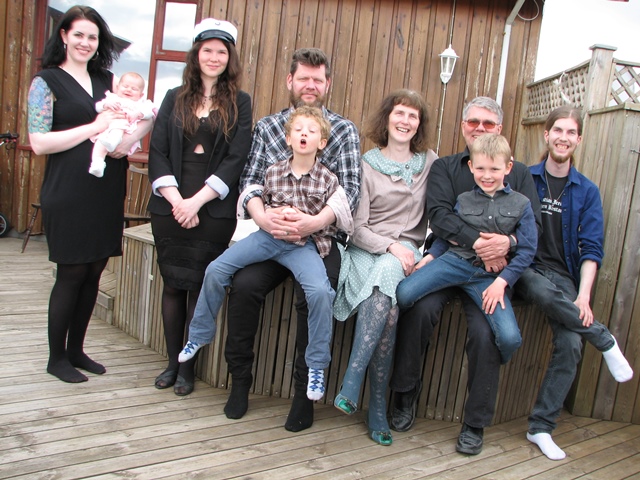 31. May 2015.
Marijn van der Voorden has now completed her internship on our farm. She stayed here for two and a half months and she came from a school from the Netherlands. She did very well and was diligent and helpful every day and great with the horses. She has experience with working on icelandic-horse farms in the Netherlands. She helped us to make a new facebook-page about our farm which was one of her assignments from her school. We hope that our facebook-page will be a success, you can see it here: https://www.facebook.com/Vorsabae2/?ref=hl We want to thank Marijn for being here and we wish her all the best in the future!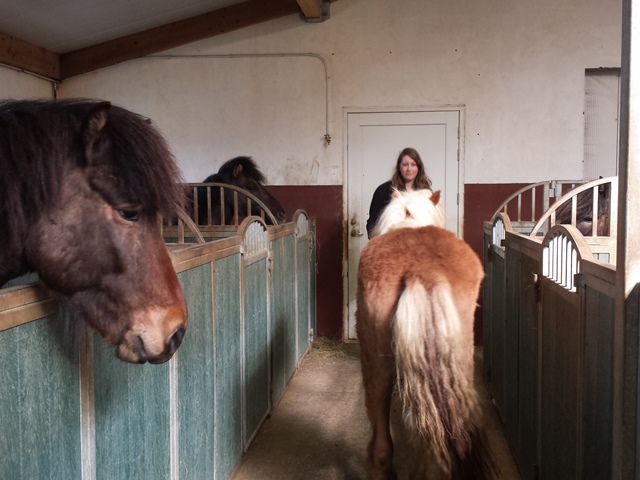 29. May 2015.
This spring has been quite cold and the grass is not growing well. At this time we usually let our sheep and their lambs go outside, but there is not enough grass for them yet. Most of our sheep have had their lambs now and we decided to make a facility in our ridinghall for them where we feed them hey and the lambs have much space to play. It is also good for the horses to see something new when we are training them in the ridinghall and we can see that the horses like the company.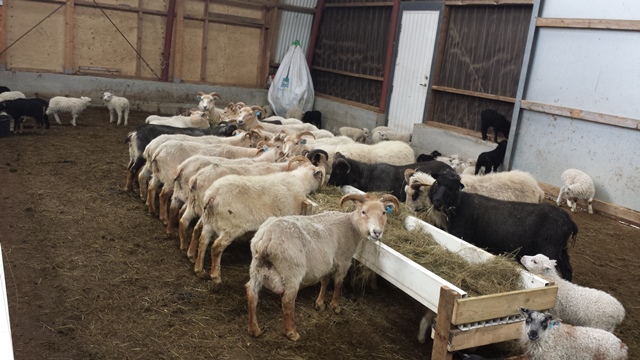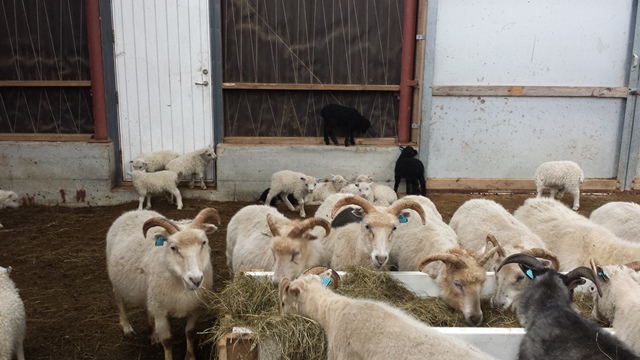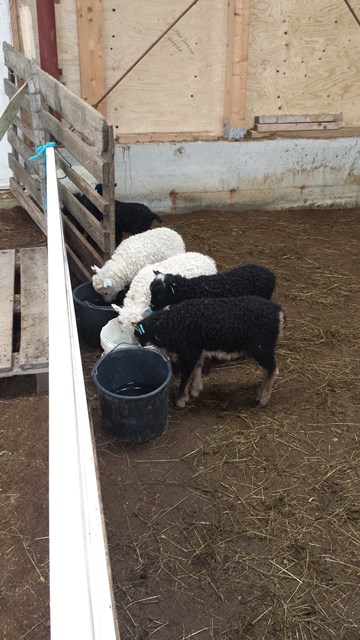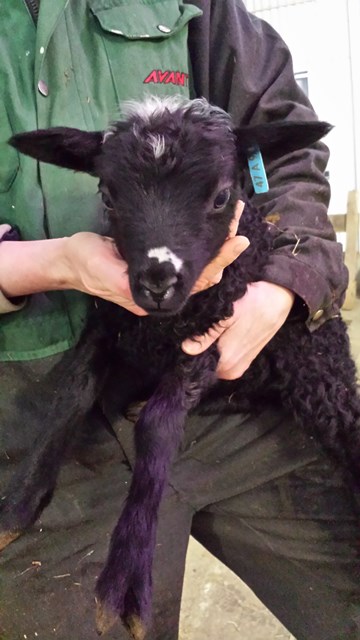 27. May 2015.
Our breedingmares continue to have their foals now and today we had three foals. Kolbrún had a stallion, red with a star by Sveinn-Hervar. That makes him a full brother to Evíta and almost a full brother to Hreyfill, because the father by Hreyfill is Dugur frá Þúfu who is son by Sveinn-Hervar. The stallion foal has long legs and he showed us his movements right away! Nös had a black marefoal and she is daughter by Blær frá Miðsitju. She is beautiful and we are happy that Nös had a mare, since she has not had many marefoals over the years.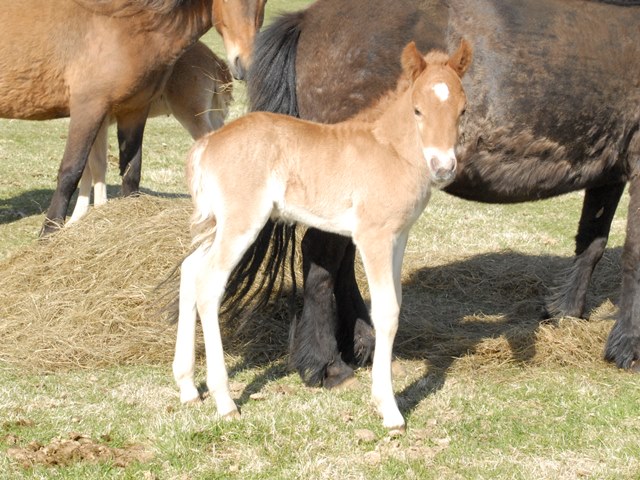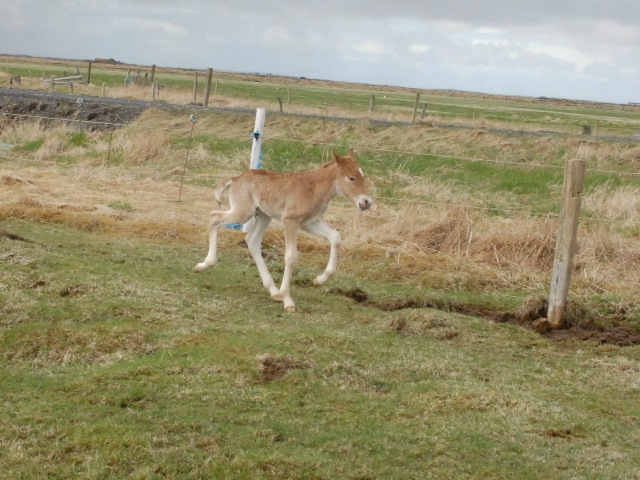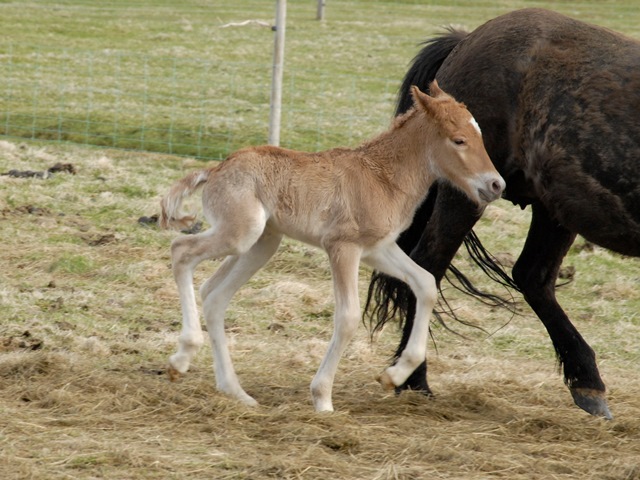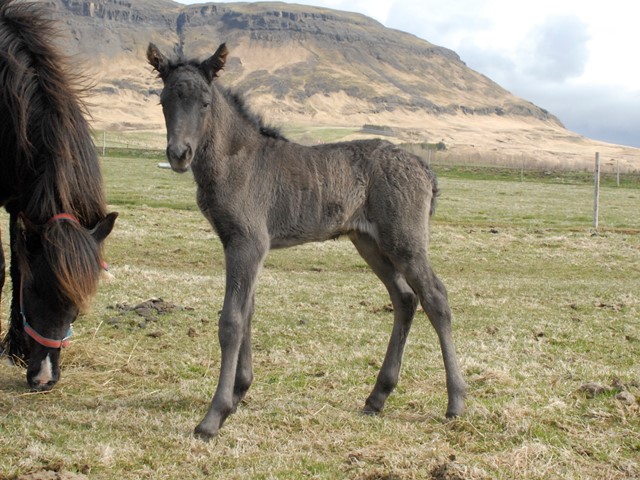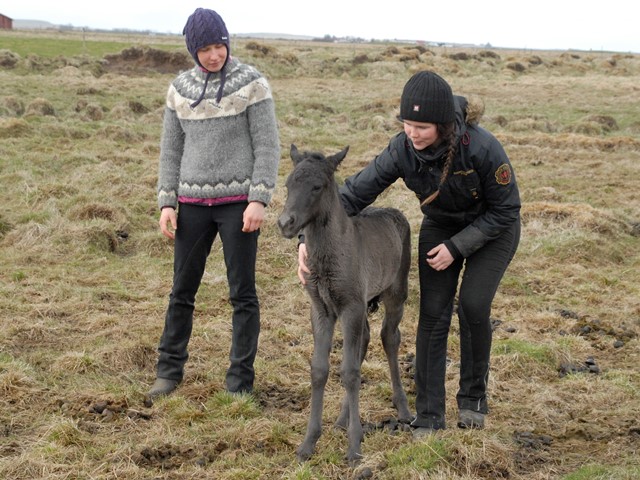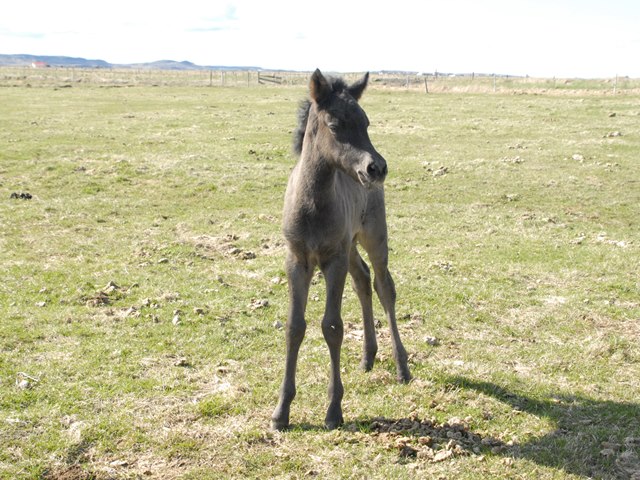 20. May 2015.
We always look at our one years old stallions in the spring time and decide which ones of them will remain stallions. This year we decided to keep three of them as stallions and they are: Ganti by Lipurtá and Hreyfill, Hugi by Hátíð and Hreyfill and Taktur by Kolbrún and Toppur frá Auðsholtshjáleigu.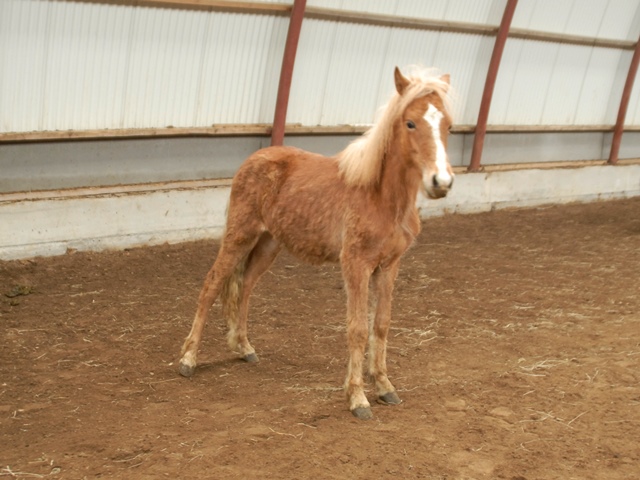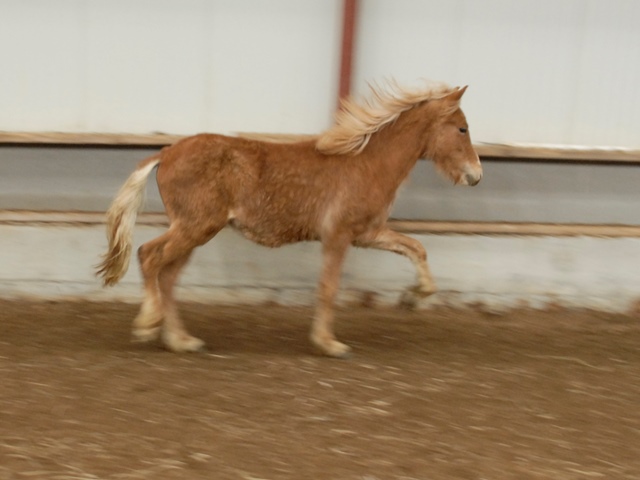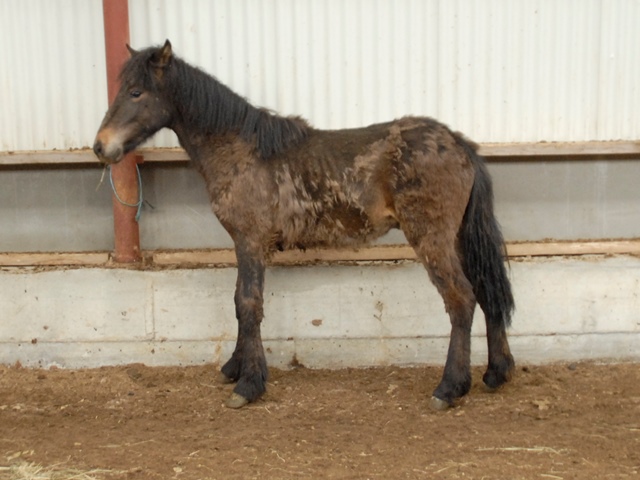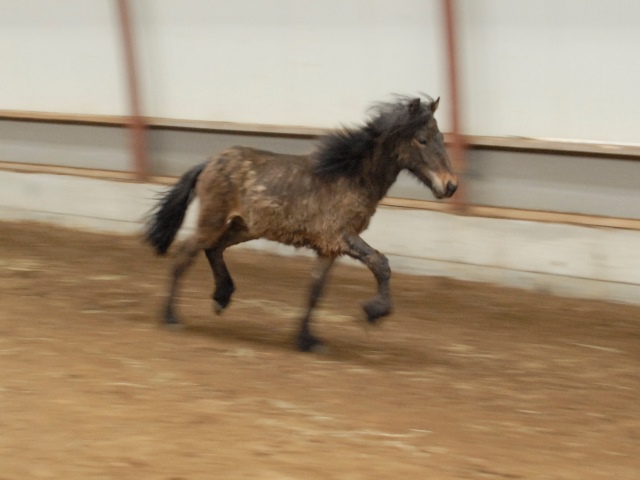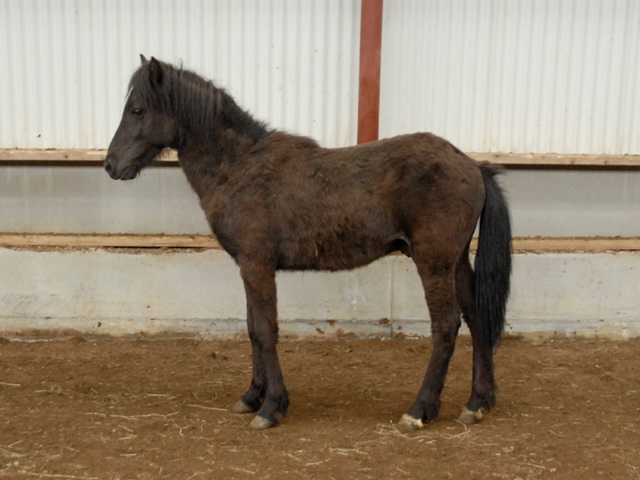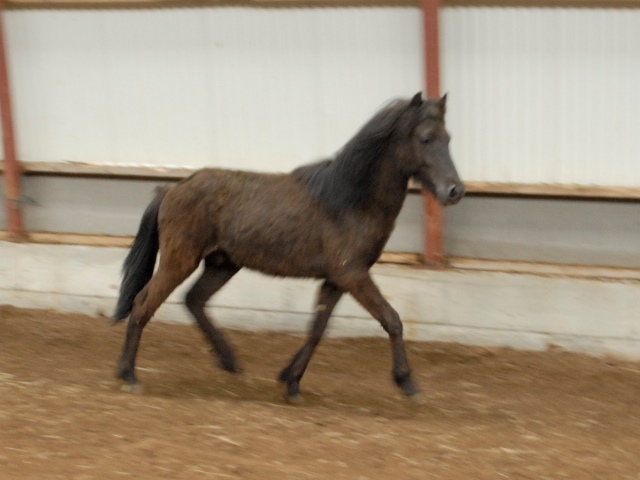 16.May 2015.
The female yearlings went outside on the big field today. We seperated them from their mothers last February and since then they have been inside where we fed them hey. We always train our youngsters a little bit when they are inside the stable and then we get to know them better. We put the halter on them, lead them in the stable, brush them and admire them. Usually in May we have more grass on the fields, but this year it seems to grow slowly so we still have to feed our horses hay outside.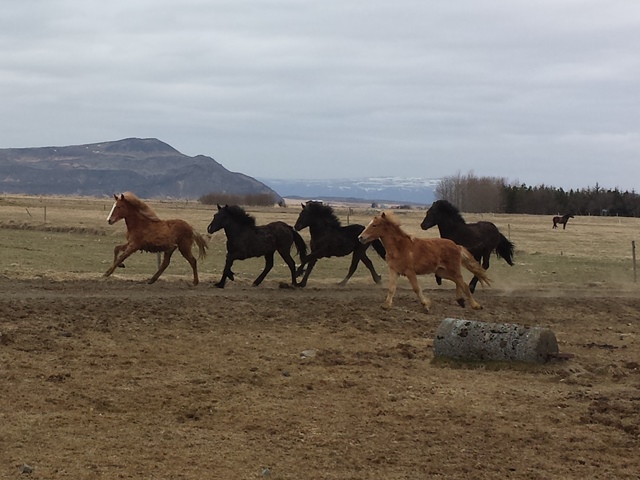 12. May 2015.
Now the first mares this year are arriving who will be covered by Forseti. We have Forseti inside our stable and we take the mares to him, one by one to check if they are ready to get pregnant. It is quite a lot of work each day, to check every mare and breed them with Forseti when they are ready. But it is easy work with Forseti who is really nice, tractable and quick. Later in the summer when there will be more grass outside on the fields then Forseti will go outside with his mares.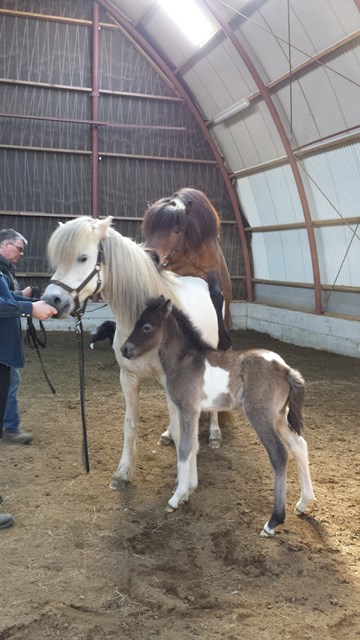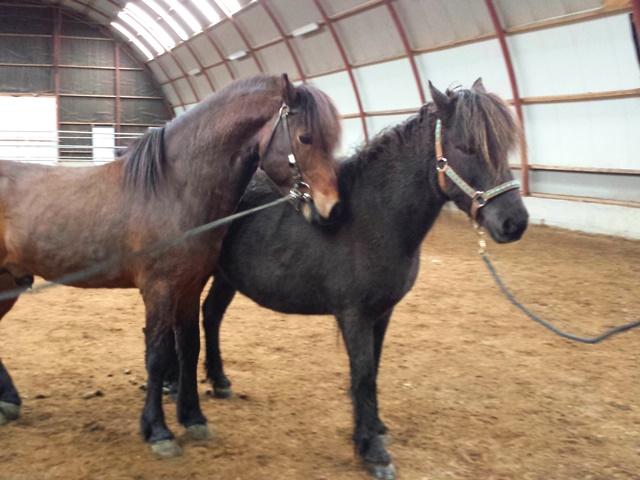 11. May 2015.
Today it came four women from Sweden to our farm. We had a great ride through our big field and took photos by the Lava stones. The women will stay with us and sleep in our cottage for three days and take riding tours daily. They will also visit the many touristic attractions that are nearby.
9. May 2015.
Hreyfill and Siggi Óli competed at Reykjavíkurmeistaramót in fourgait champion-group. This was the first competition for Hreyfill and the two did a great job! After the first preliminary they were in the 2.place with the point of 7,13. In the finals the day after they were also good, but they did not get a place in the end because there was a little scratch on the leg. But when we count the numbers that Hreyfill got then he would had ended with the point of 7,34 and in the 2.place. We are happy with Hreyfill in his first competition where he was competing with experienced horses and it looks promising for the future.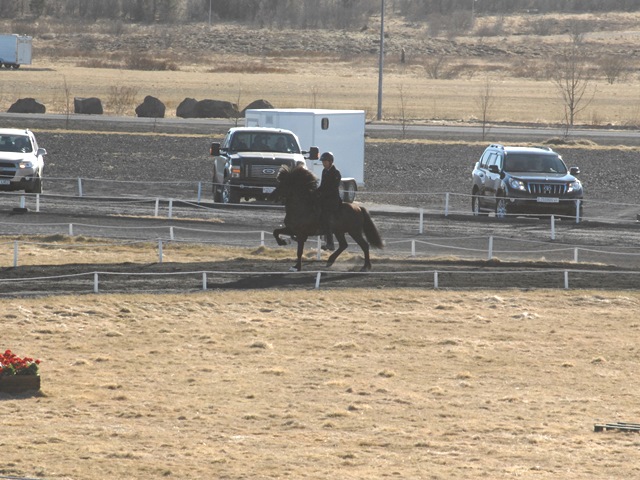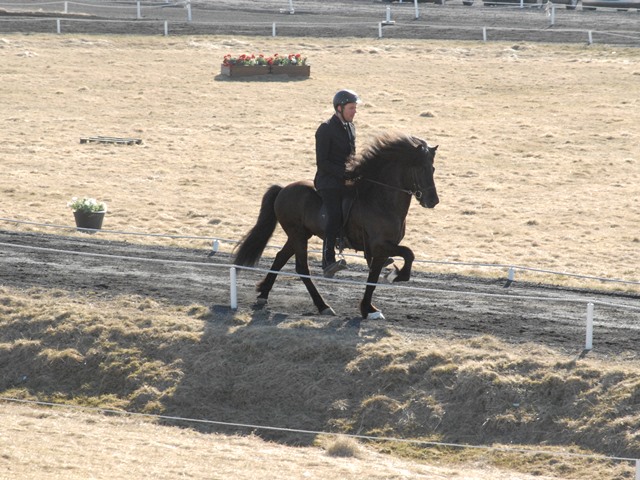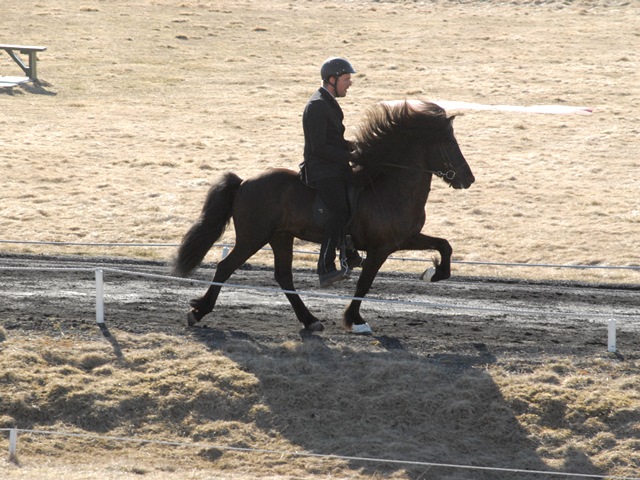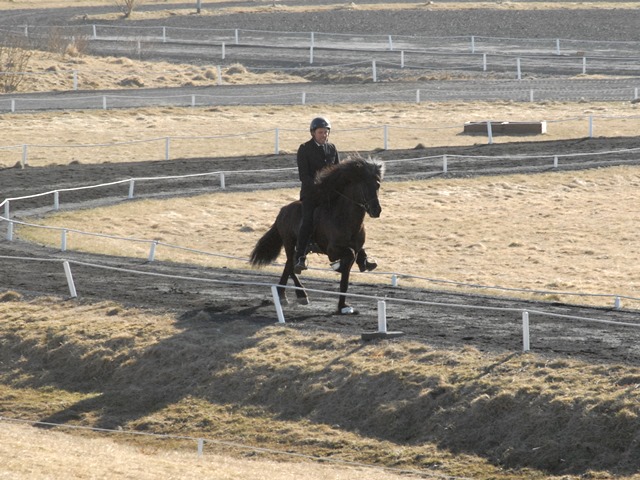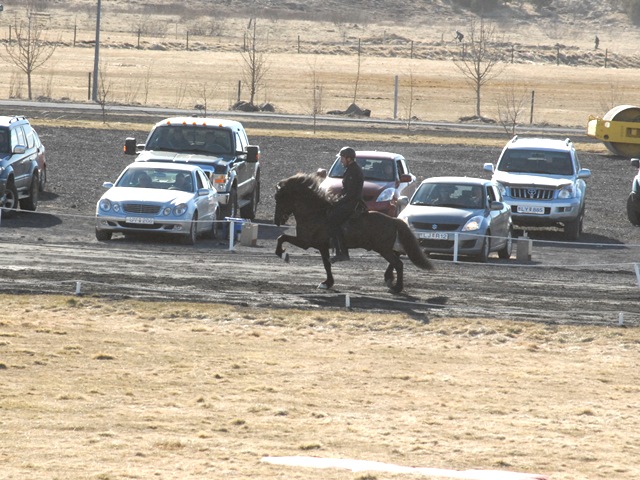 5. May 2015.
Our sheep have began to have their lambs now. This period is always wonderful! We have 60 sheep this year who are giving birth and this period lasts for around 4 weeks. We spend most of our days in the sheephouse at this period to look if everything is going well and sometimes we have to help the lambs to come to the world if there is some problem. Our guests who come to visit like to look at the lambs and the kids really love it.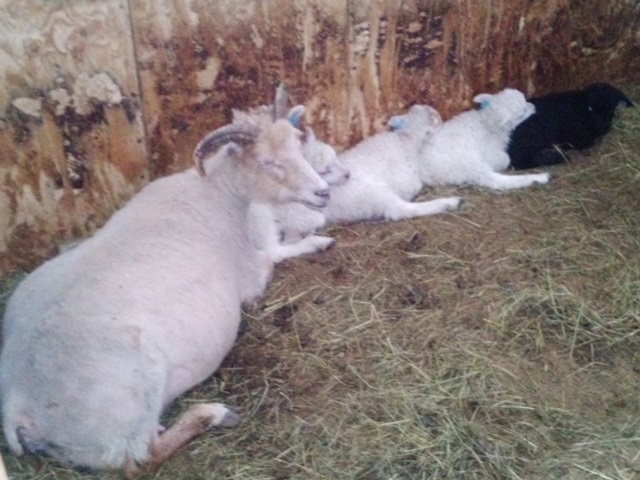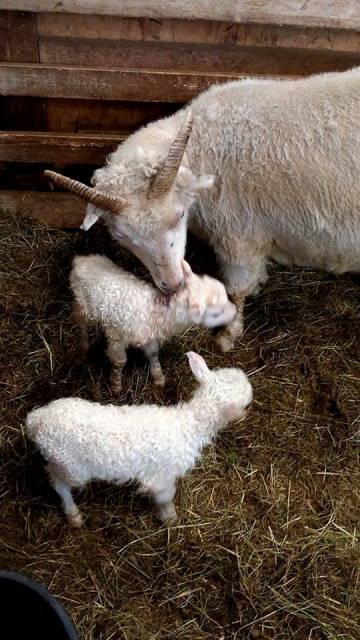 4. May 2015.
Lipurtá frá Vorsabæ 2 had her foal. It is a stallion foal by Sveinn-Hervar frá Þúfu and the foal looks beautiful. We are expecting another foal this summer by Sveinn-Hervar and of course we are hoping for a "gæðingur"! The day after the foal was born it came snow and it was very strange for us to see a new born foal out in the snow.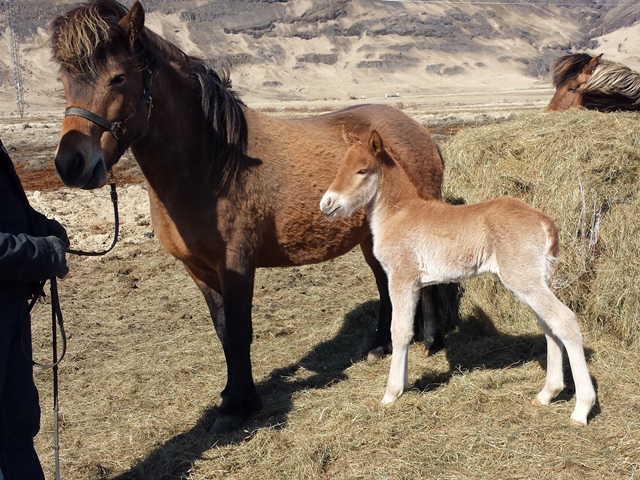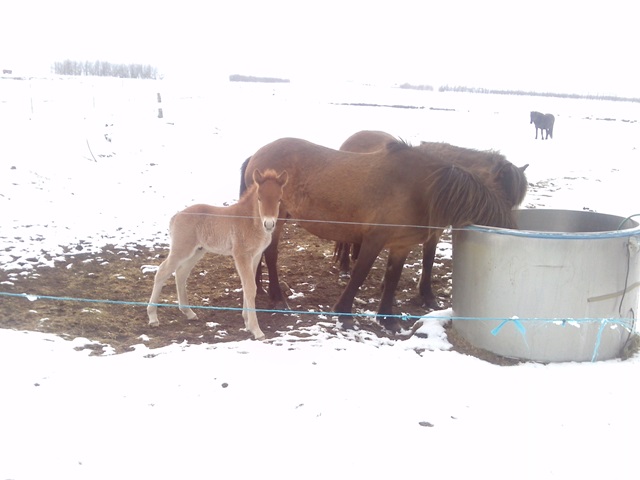 23. April 2015.
The women on the farm went for a riding-trip today and enjoyed the good weather! We took 11 horses with us and rode a big circle, 14 km here in the neighbourhood where we stopped several times. This was an excellent work for the horses and nice experience for Marijn van der Voorden and Nanna Jessen who are working for us now.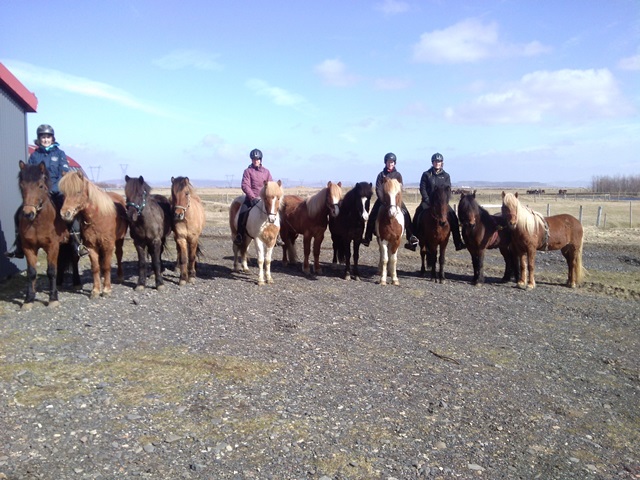 20. April 2015.
Uppsveitadeildin is a competition in our horse-club that is held every winter from February-April inside the riding hall at Flúðir. It is fourgait in February, fivegait in March and tölt and pace in April. Many people come to Uppsveitadeildin and are excited to see the competition. It is seven teams that are competing and Björn is the teamleader of one of them. In his team are: Gunnar Jónsson, Birna Káradóttir, Hermann Karlsson and Sigurbjörg Bára Björnsdóttir. This year we ended up in the 4th place with 157 points and we are happy and proud of that!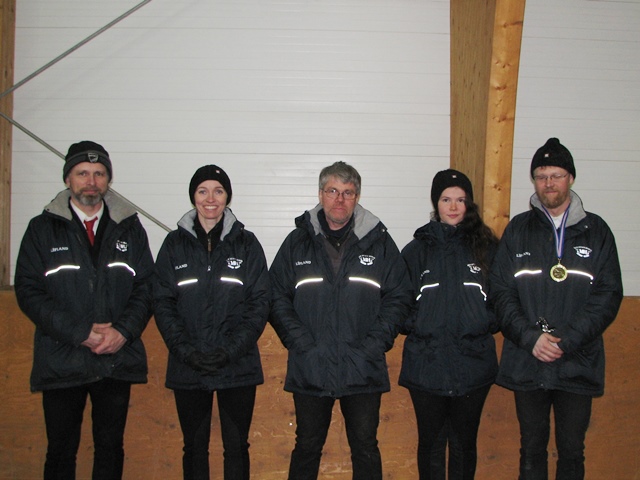 4. April 2015.
We are in partnership with Booking.com for renting our holiday-house. Our guests can give us ratings for how they like everything, for example how well the house is cleaned when they arrive, the access to the Internet and how the hosts are approachable and so on. Today we received an approval shield from Booking.com and we are with the score of 9 in the avarage. It is nice to see that we got such a high rating and also that our visitors are satisfied with the stay.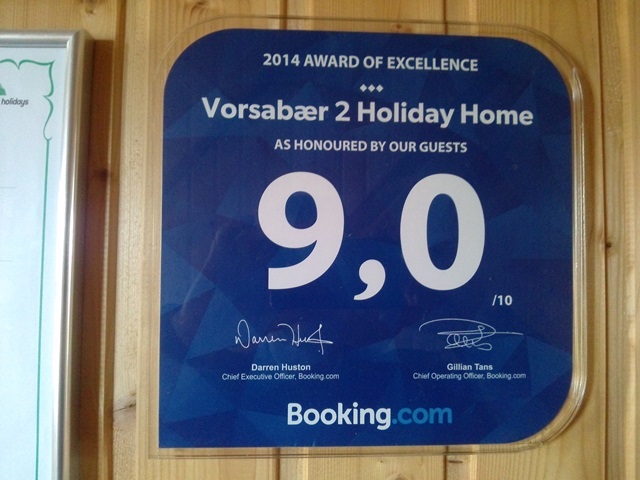 30. March 2015.
Today was a happy day! A small sunlight joined the family when Magga, our daughter and her husband Kiddi had a daughter today. We the grandparents and Sigurbjörg stormed to Reykjavík and visited them in the hospital. The little girl got the name Salóme Birta and of course it is the most beautiful baby in the world.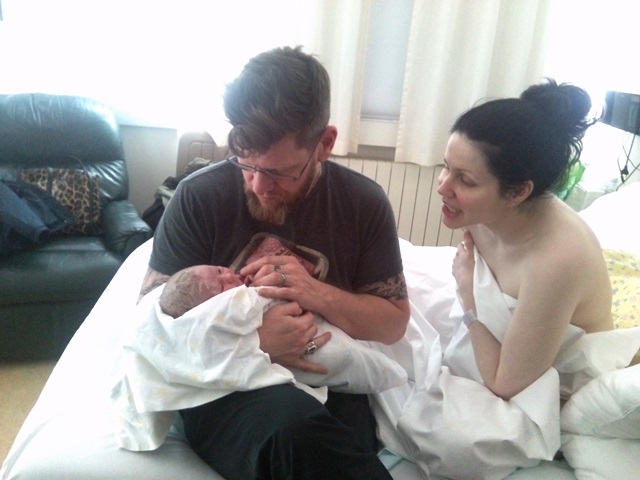 29. March 2015.
Every year "Hjónaball" is held in our neighbourhood area. This year we are in the control group and Stefanía is the leader. It is alot of work and we have had a meeting once in a week from the beginning of January. The control group makes the entertainments and it is mostly about the people who live in our area. It has been very fun to take part in this and work with our nice neighbours and the food was great, we got compliments for our entertainments and then there was a ball in the end. Here you can see the photos from the rehearsals.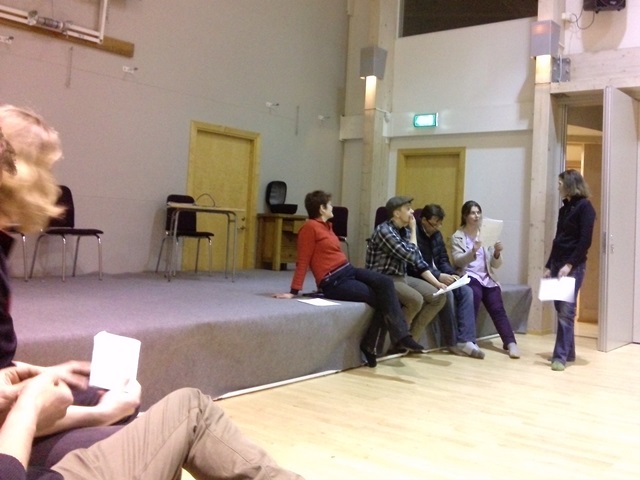 23.March 2015.
From the beginning of February, some disabled people who live at Sólheimar have been coming here every Monday for 4 hours. Meike Witt is teaching them and does it very successfully. Everyone gets to know the horses, the horse-history and they lead the horses and ride them. Our mares, Drottning and Spóla are suitable for this work and they love the attention that they get. The people are always happy when they come here and it is nice to have them.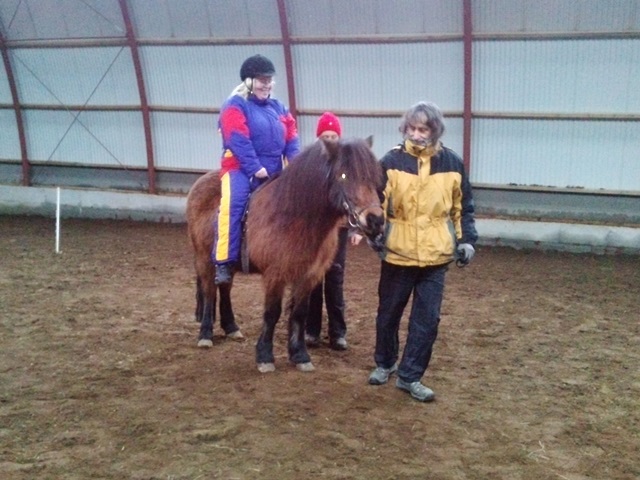 20. March 2015.
Everyone on the farm had a break when the eclipse came. We took chairs outside by the stable where we planted ourselves down with welding glass to see the eclipse.
It was a great moment and the colors in the environment were different. It also got a lot colder and the blankets and horse-blankets were very handy for us. Flekka, our dog was a bit strange and crawled under a table in the lobby of the stable and she wouldn't come out.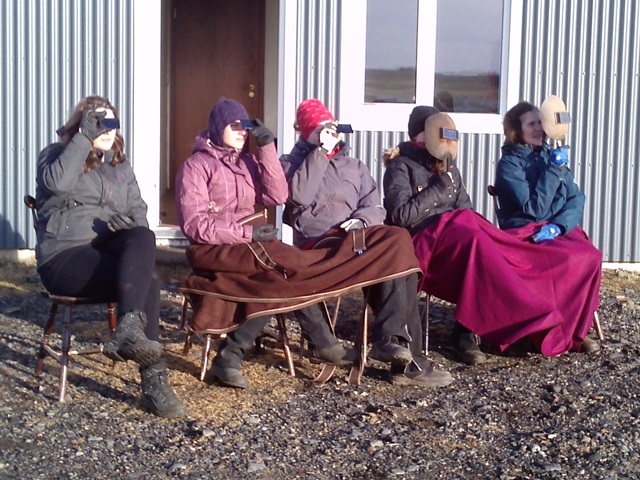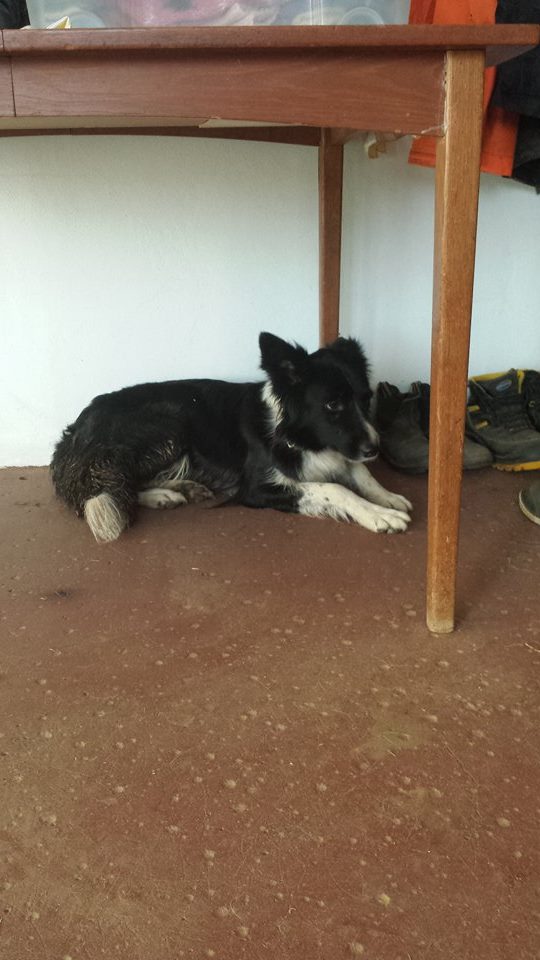 9. March 2015.
This winter we can call Iceland for sure Winter wonderland! We have had much snow the whole winter and sometimes it was very windy and raining. Sometimes it was not possible to ride the horses outside and then our riding hall was very useful. But in between there were also good days. It is beautiful and we often took our camera outside and took a few pictures.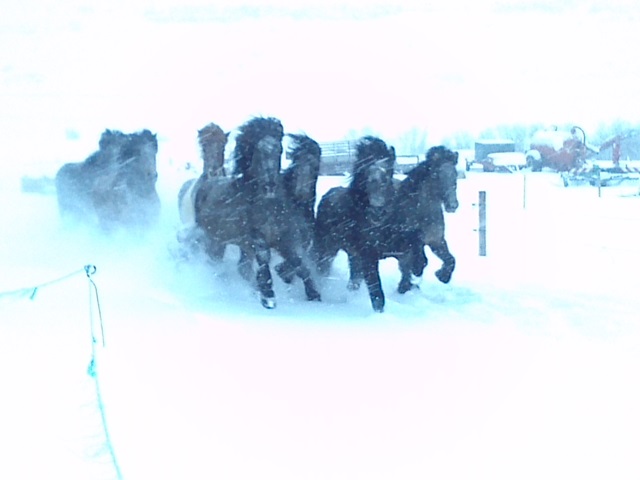 5.February 2015.
This winter we have a girl from Denmark who is working on our farm. Her name is Nanna and she will stay here till the end of next summer. Tjorven Kanopka is also working on our farm. She is from Germany and will train the horses the next two months. Sigurbjörg Bára is also working on the farm and training horses, but she is also in school. They are all wonderfully diligent and we are lucky to have them with us.
30. January 2015.

Sophie and Martin came to us in visit. They live in France on the farm Schlossmatt where they breed icelandic horses. They own a mare and a foal by her on our farm which we are feeding for them. We got to know Sophie in 1993. Then she was working on our farm and since then we have been in good contact with each other.
Sophie and Martin have bought some horses from us over the past years, for example the stallion Stirnir frá Vorsabæ 2. Stirnir is a son by Kolbrún frá Vorsabæ 2 and Stáli frá Kjarri and this year, Stirnir and Sophie were champions in 4-gait in France! We have some offsprings by Stirnir which we are training now and they are all great and some of them will be good competition horses.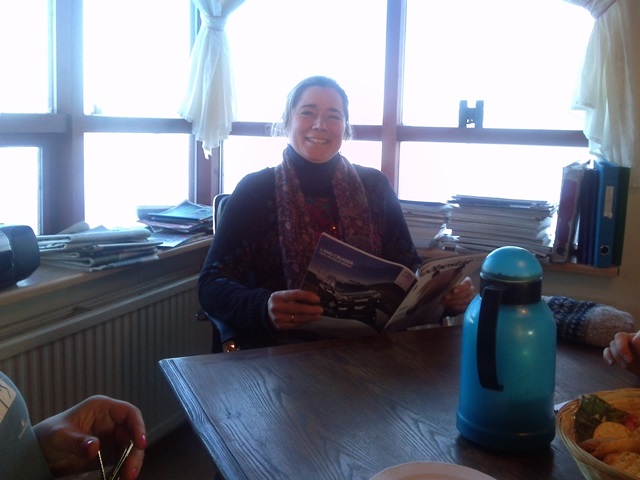 Here you can see the photos of Stirnir frá Vorsabæ 2:
15.January 2015.
We got some photos from Landsmót 2014 from the photographer Jón Björnsson.
Here you can see the photos of Sigurbjörg Bára and Blossi frá Vorsabæ 2. This couple has much experience in competitions and it is always nice to watch them. They came into the B-finals in young adults and then they ended in the 14th place of 84 competitors with a score of 8,40.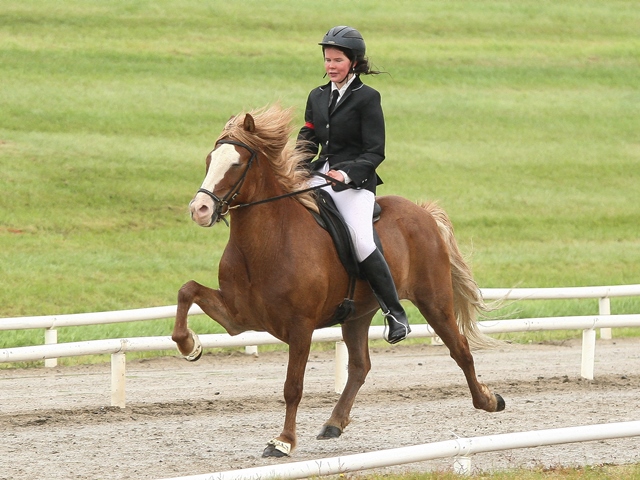 Hreyfill and Sigurður Óli did great at Landsmót. Hreyfill was in the 10th place of the highest judged 6 year old stallions and he was the highest judged as a 4-gaiter!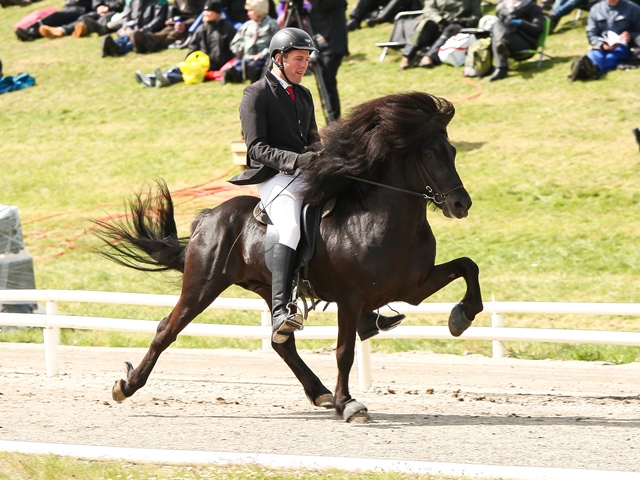 29. November 2013
After finsihing with the 3 year old colts we started with the mares Mardöll, Eva and Ör. Mardöll is a daughter of Mjölnir from Hlemmiskeið and Kolbrún from Vorsabær, Eva is a daughter of Hlekkur from Lækjamót and Evita from Vorsabær and Ör is a daughter of Hlekkur from Lækjamót and Píla from Vorsabær. The last one Ör was bought by a Norwegian lady when she was only one year old. All the mares went through the same training as the colts and we were very satisfied with the result. All of them showed much progress during the training and we look forward to continue with them next winter.
21. November 2013
The winter came with a bang at the end of October so we had to stable all our sheep and had them sheared so we could get some good wool for the wool industry.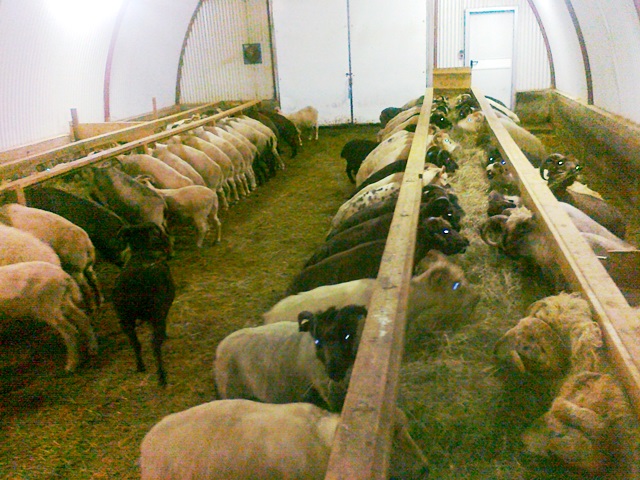 14. November 2013
Last autumn we came across an incubator so we got some hatching eggs to try it. The outcome was quite good we got 13 chicks but we still do not know how many of the are male and how many female. We have had great pleasure in watching their behaviour.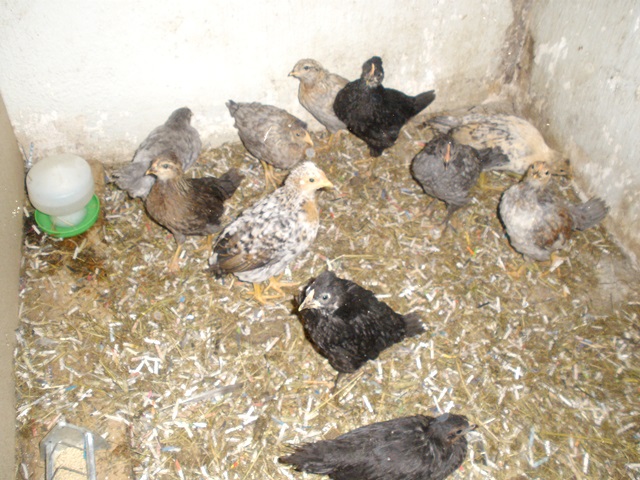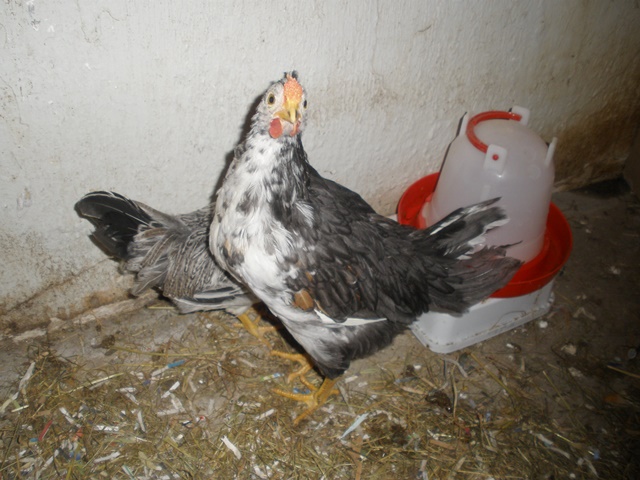 12. November 2013
The annual foal show of Glaumur took place in our indoor arena on the 10. of November. Aorund 80 spectators came to see all the promishing foals. In the mare class Gullbrá from Steinsholt was chosen the most promishing foal. She is sired by Þórólfur from Prestbær and her mother is Tíbrá from Hvítárholt. In the colts class Djarfur from Fjall was in 1st place but he is sired by Djákni from Helluland and his mother is Glódís from Fjall which is a daughter of Forseti from Vorsabær. The spectators got also the opportunity to choose the best foal and they choose Gullbrá from Steinsholt. Our foal Erla sired by Loki from Selfoss and Evíta from Vorsabær got 5th place in the mares class.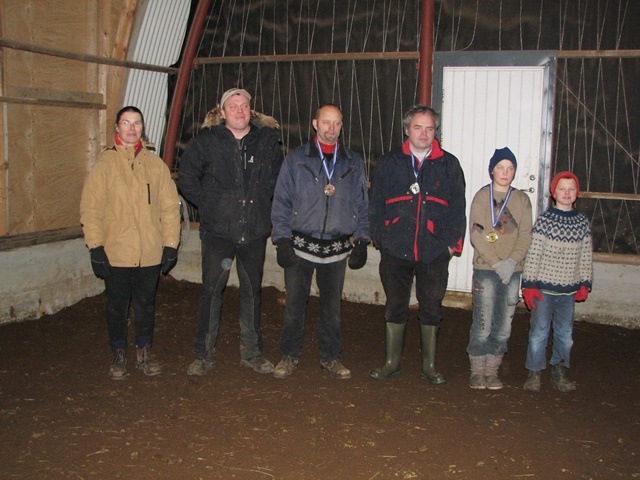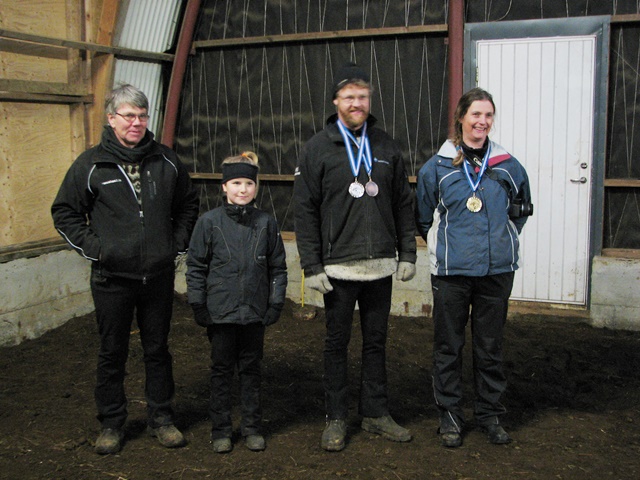 10. November 2013
After the two girls from Sweden left we kept on training the 3 year old colts. Four of them are sired by Stirnir from Vorsabær who is a son of Stáli from Kjarr but Stirnir was sold to France in 2010. Two colts are sired by Hlekkur from Lækjamót and one sired by Forseti. We take great care in not overdoing them as they are unequally mature and receptive to the training. In the beginning we work a lot with the horses from the ground, we drive them on a small cirkle with the lead rope so they learn how to bend and act to the rope and the stimulus so they will be better prepaired for work under the saddle. When starting the horses under the saddle we ride them along the alleys in the stable. When they have learned to react to the rein we start riding them with togheher with a trained horse in the indoor arena.
7. November 2013
The tourism in Iceland has been growing these past years and prospects for the future are good. The tourist season is also extending into the autumn. But we have to see to that the resort areas are accessible and proper activities for all the tourists. We still had visitors in our guest house at the end of October. On the picture are Swedes who came for a ride and some French people who went riding and enjoyed the Northen lights in the evening.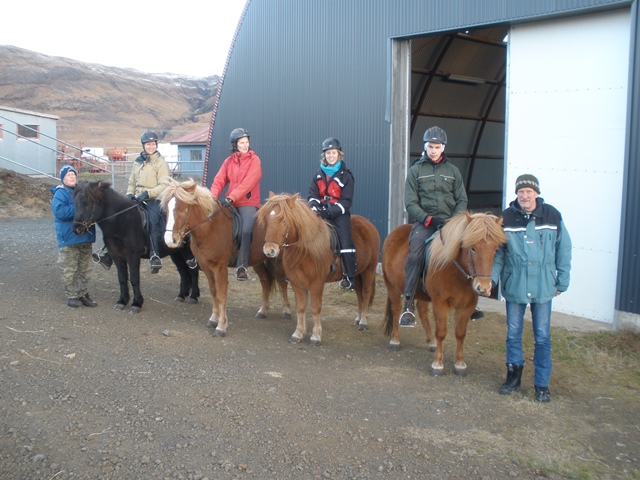 15. October 2013
We are very satisfied with all the young horses which we trained last autumn. Four of them are sired by Forseti, 1 by Stæll from Neðra-Seli and one by Stáli from Kjarri. All of them are calm and easy to handle and their gaits are promising. Besides these 4 year old horses we have one 4 year old mare which was trained earlier this year. She is sired by Hlekkur from Lækjarmót, a very promising 4 gaiter with high tread.
 3. October 2013
This summer we mated 13 of our mares 4 of which were new breeding mares. Most of them were together with our stallion Hreyfill but we also used Toppur from Auðsholtshjáleiga, Hrannar from Skeiðvellir and Hrymur from Hof. Silfurdís was mated with Forseti but unfortunately she was not with foal which is quite understandable as she was still recovering from her injury. All the other mares which were with Forseti were with foal and all besides one mare which were with Hreyfill were with foal.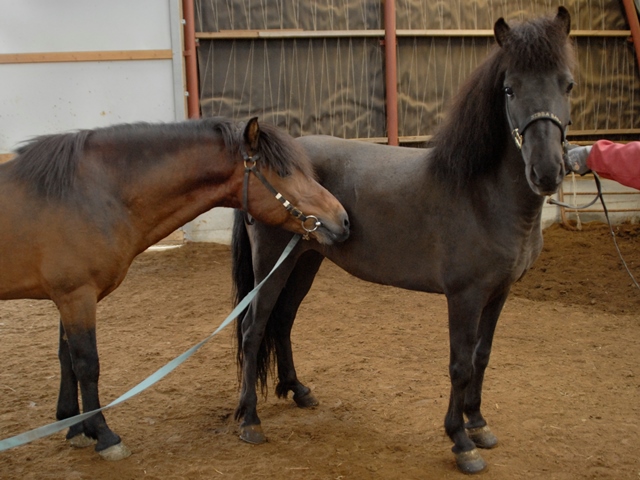 1. September 2013
In the autumn we got two students, Anja and Mattilda from Dille Gård working for us. They helped us training the 4 years old horses for the next 5 weeks. By that time all the young horses were fit to ride.
23. August 2013
On the 31st of May Sigurbjörg´s mare Silfurdís was kicked by another horse . We got a veterinary to look at her and the x-ray showed that her left front leg was broken. She got a good treatment and we had to keep her in her box for the next 8 weeks. After that a period of  physiotherapy and walks led by Sigurbjörg took over. In the beginning of September she was ready to go out in the field again. It looks like that Silfurdís has recovered and hopefully Sigurbjörg can begin to ride her next winter.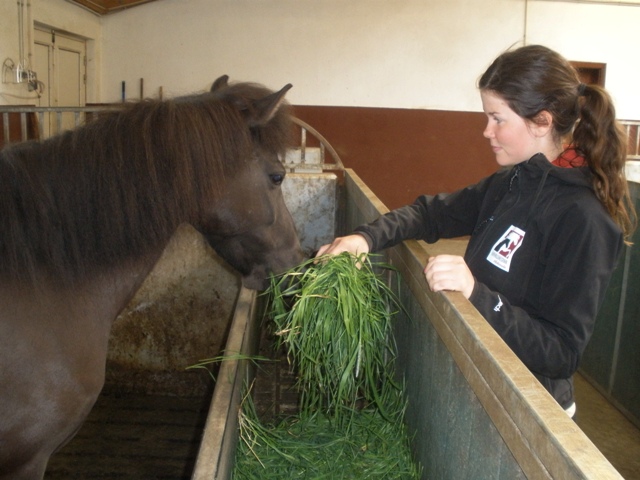 20. August 2013
In August Sigurbjörg competed in 4 gait on Blossi at a big horsecompetition at Hella. She ended up in 2nd place with the total score of 6,70 only 3 points after the rider in 1st place.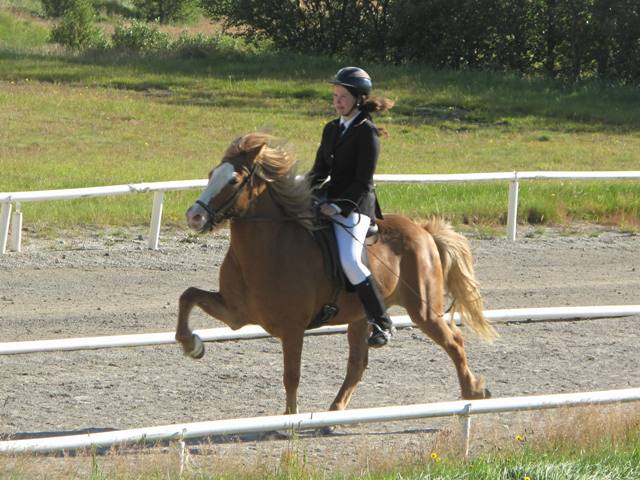 21. June 2013
The annual Gæðingakeppni at our local club Smári took part on the 20th of July at Fluðir. Sigurbjörg competed on our mare Fjöður and took 1st place in youngster class with the total score of 8,24.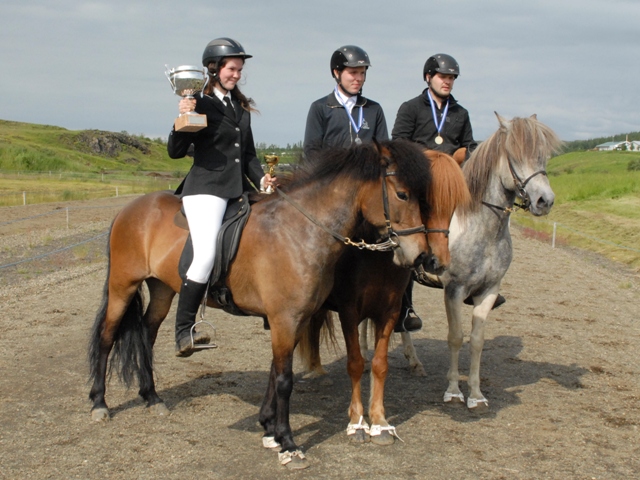 16. June 2013
Our foals were born from middle May until the 6th of June. We got 6 mares and 4 colts,. The foals were sired by the following stallions, Glóðafeykir from Halakot, Loki from Selfoss, Stæll from Miðkot and Hreyfill from Vorsabær.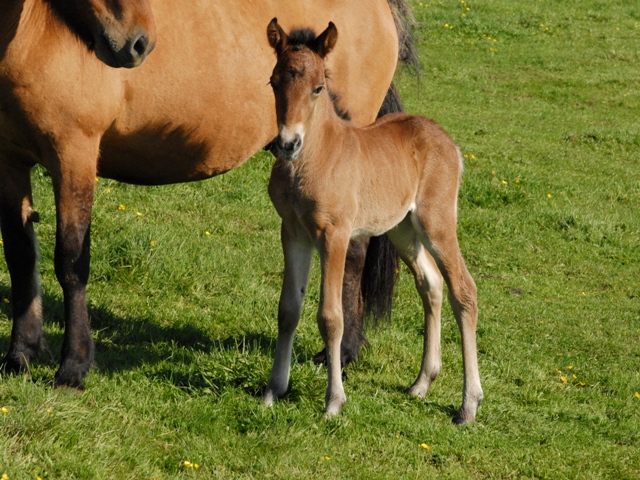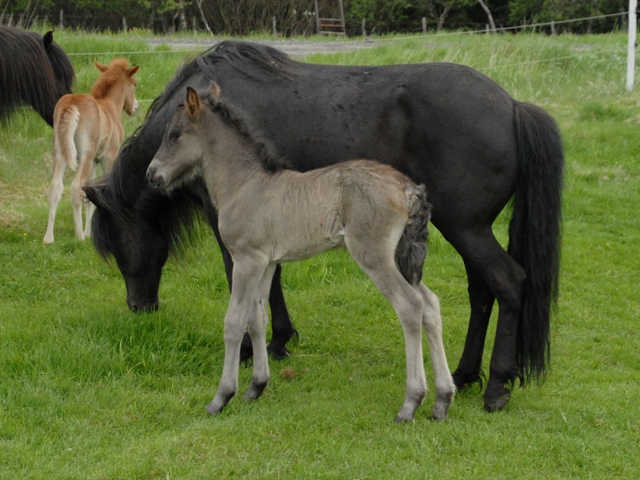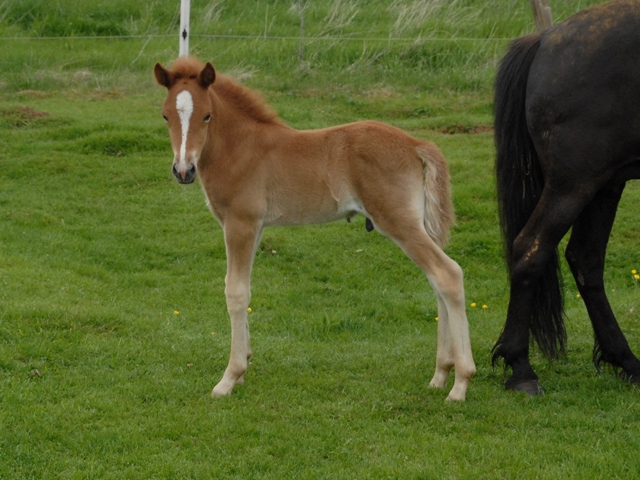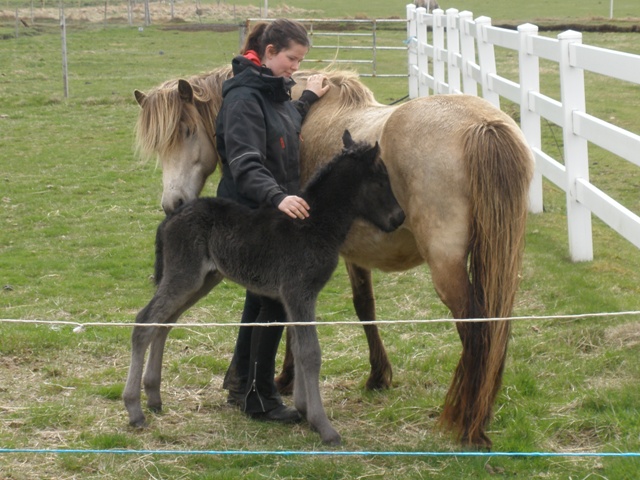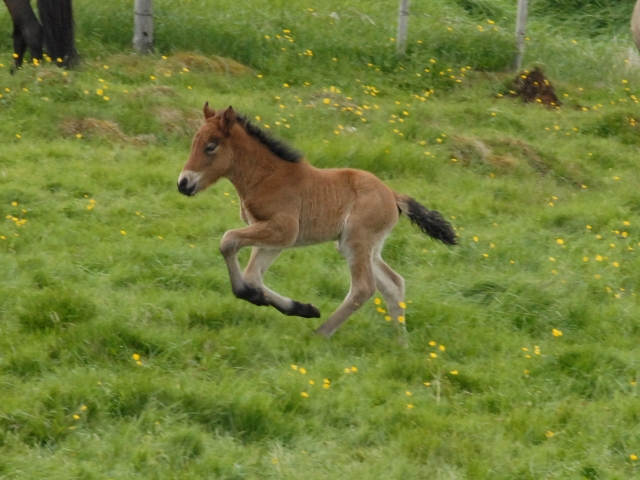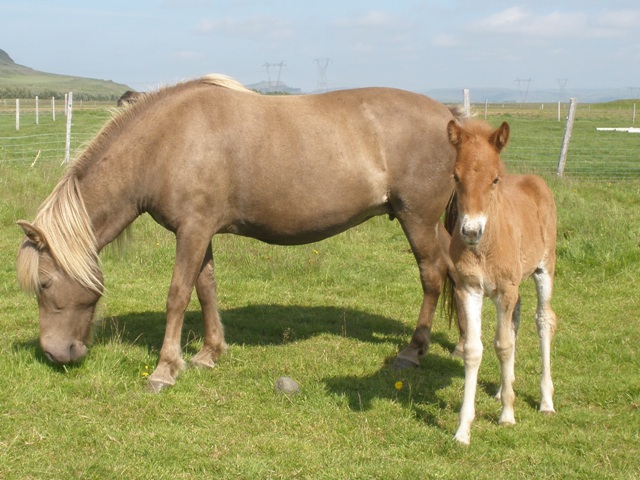 15. June 2013
Fjöður was shown for in breeding evaluation in mid June. She got 7,70 for conformation and 8,36 for riding abilities, total score of 8,10. She got 9 for spirit and 8,5 for tölt, trot, pace and general impression. Sigurbjörg Bára did a great job in training her all winter and prepairing her for the breeding evaluation. Only a week before the evaluation Sigurdur Óli took over the training and rode her in the breeding show. Fjöður is the first offspring og Nös which is owned by Jón Emil. Here you can see Sigurdur Óli riding Fjödur in the evaluation.
29. maí 2013
In the end of May Hreyfill was shown in breeding evaluation. As before he was ridden by Sigurður Óli Kristinsson who did a great job. For conformation he got 8,31. For riding abilities he got 2,24 thereof 9 for tölt and form under rider plus 9,5 for spirit. Total score of 8,27 which is a good score for a 5 yoar old 4 gaited stallion.
After the breeding evaluation Hreyfill was used for breeding here at Vorsabær.
 27. April 2013
On the 27. of April there was a special Stallion show at Selfoss. Our young stallion Hreyfill was one of participants ridden by Sigurdur Óli Kristinsson. Hreyfill got a lot of attention from the audience for his beautiful movements and extraordinary caracter. Hreyfill is born in 2008 sired by Dugur from Þúfa and mother is Kolbrún from Vorsabær.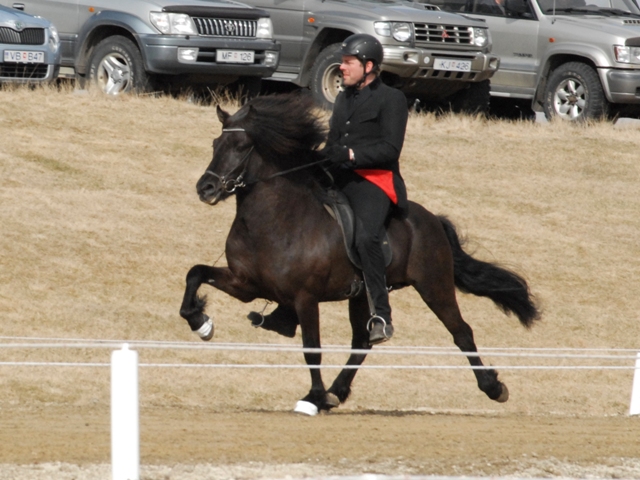 2. May. 2013.
During the lambing season we get visits from school children at the age of 7 to 11 years of age. This year some 5 groups of 40-50 kids came to encounter the litle lambs, the new born kids and foals. The kids showed much interest in the animals and asked a lot of questions which we were happy to answer.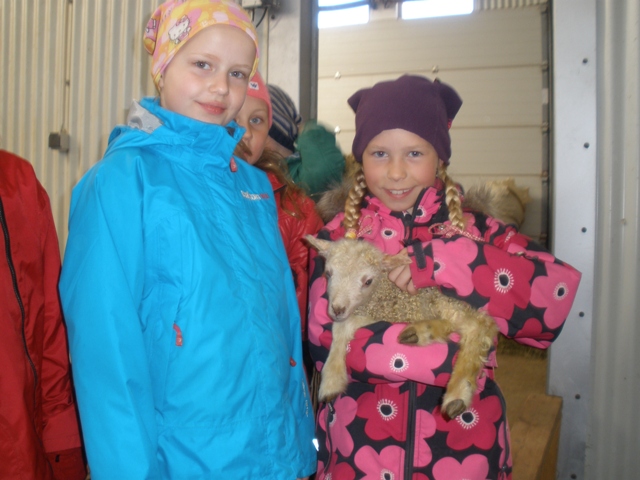 10. May. 2013.
In May the spring came at last and the lambing season started and lasted for some 3 weeks. We got lambs of all colours as can be seen on the pictures. Before releasing the sheep with their new born lambs we give them vermifuge and cut their hoofs.
  23. Apr. 2013.
Uppsveitadeildin is a tournament held in the arena at Fludir. 7 teams from the clubs Smári, Trausti and Logi compete. Sigurborg is a member of the team Stuðmenn along with Hermann Þór Karlsson, Aðalheiður Einarsdóttir, Aðalsteinn Aðalsteinsson and Ingvar Hjálmarsson. Team leader is Björn Jónsson. The first competition was in four-gate and took place in February. Two members of Stuðmenn ended in B finals, Aðalsteinn and Sigurbjörg where Sigurbjörg won the finals.
Next competition was in Tölt t-1. Sigurbjörg rode Blossi and she ended up in 4th place with total score of 6,72. At the end of the tournament she ended up in 6th place and her parents were very proud of her.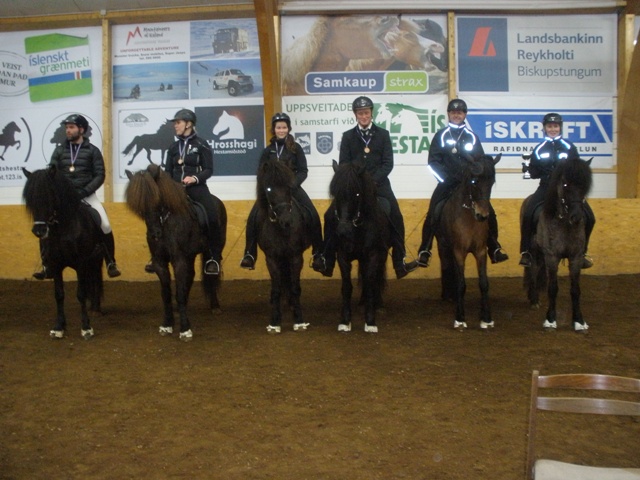 23. Apr. 2013.
On the last winter competition at Fludir Sigurbjörg competed on Blossi and won the youngsters class and ended up in 1 place in the total tournament.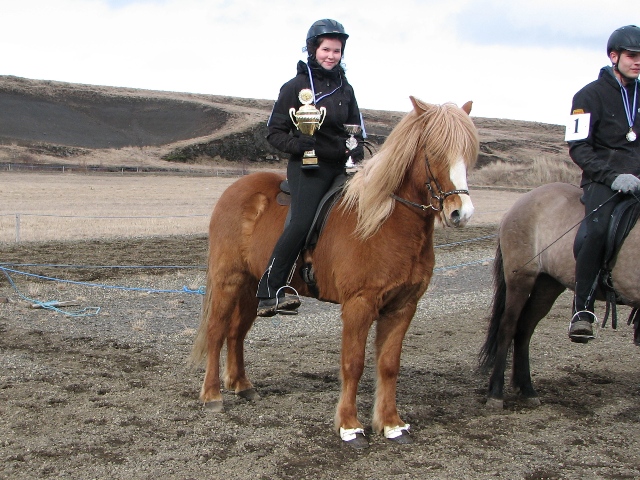 20. Apr. 2013.
In April we got a visit from 17 youth members of the Horse club Sóti. The  youth members were split up into two teams  and had to compete in solving some hurdles which we had set up for them in our indooor arena. The new born kids were in the center of the attention and everyone wanted to hold them and hug them.
17. Apr. 2013.
In the middle of April one of our goats Skrina gave birth to 2 kids, a doeling and a buckling although there was still litle sign of the spring but one could hear the bird songs of the migrants. We were still expecting 3 more goats to give birth to some kids.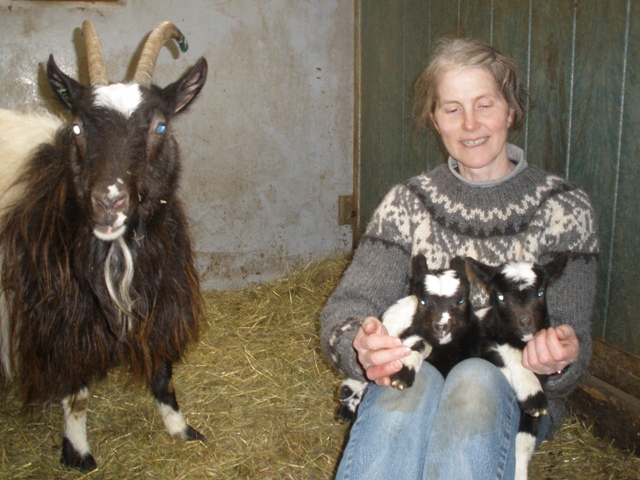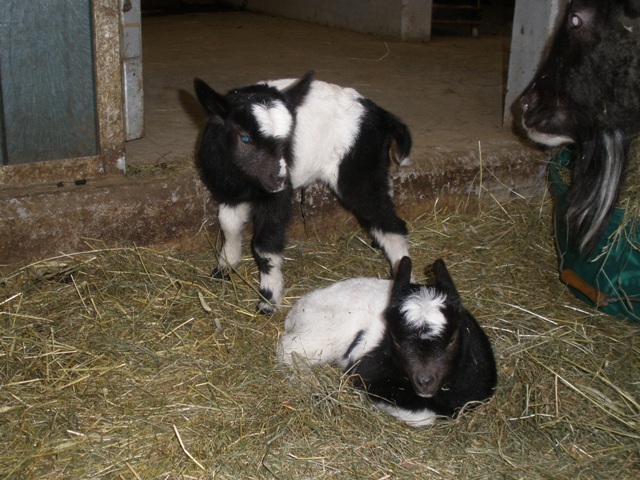 17. Mar. 2013.
On the 16th of March the 2nd winter competition of took place at Fludir. Sigurbjörg competed in youngsters class with her mare Silfurdís as last time and now they ended up in 1st place.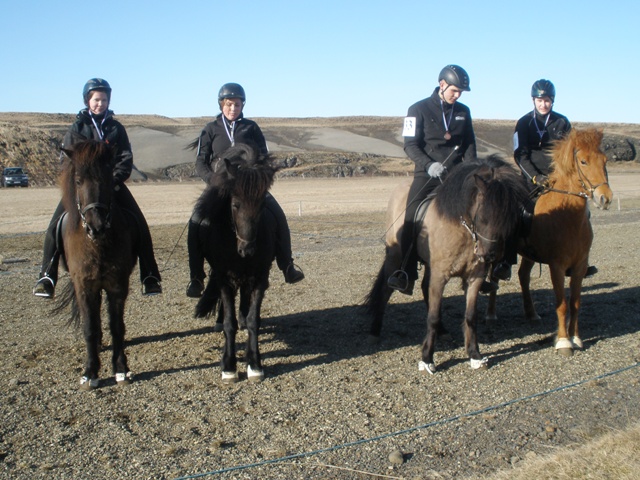 5.Mar. 2013.

In the beginning of March we held the annual horse round up at Vorsabær. We had some of our friends and neighbours to help us. We gathered all the horses at the pen next to the stable. Then we took one after another and groomed the mane and tail and cut the hooves. We took some of the young horses in the stable for training and some foals also. We have begun to stable the foals gradually as the mares want to get rid of them. To uur opinion it is best for the foals to grow in the stud up with their mother as long as possible. After a long and pleasant day we all gathered for a barbeque in the evening.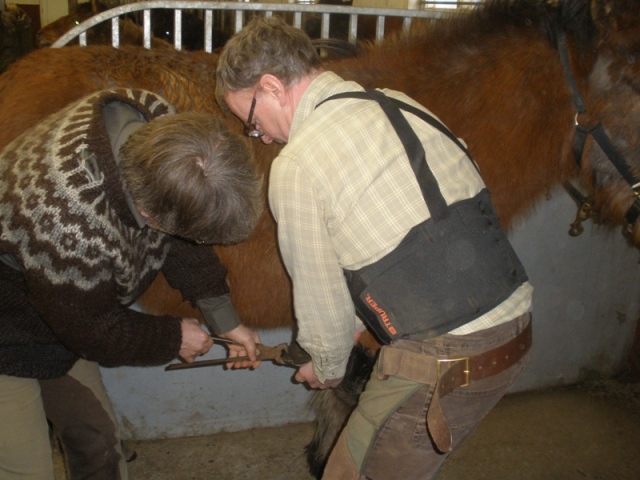 28.Feb 2013.
At the end of February Elin Bössfall from Sweden came to work for us and stayed for the next 4 months. We can do with all the help we can get as there is always plenty to do at the farm.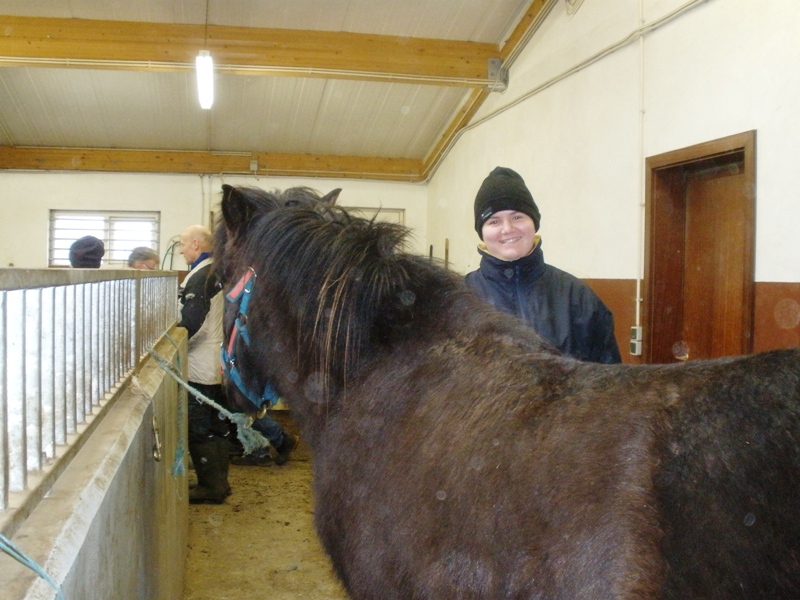 23.Feb 2013.
We are so fortunate that some of our friends send us pictures of their horses which they have bought from Vorsabær. Here you can find pictures of Ennen, daughter of Tign from Vorsabær and Töfri from Selfoss, which we sold to Germany when she was 3 years old.  The new owners in Germany have trained her and have begun competing with good results. Now she is in further training for evaluation with Haukur Tryggvason.
20 Feb.2013. 
On the 27. of February the winter competition of The Comprehensive School in Selfoss was held at Selfoss. Sigurbjörg took two mares from Vorsabær to the competition, Silfurdís and Hátið. Both mares got to the finals so Sigurbjörg had to choose between them. As she had bred and trained Silfurdís, she was her choice. They ended up i 3rd place and Sigurbjörg got the price for equitation for the seocond year in a row.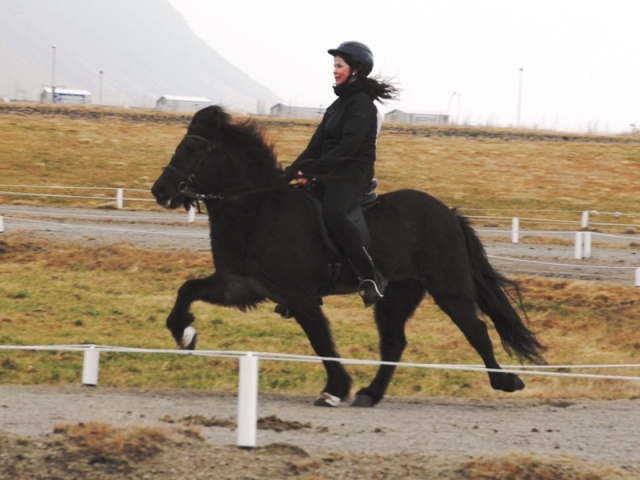 20 feb.2013.
In February the horse competitions started and the Sigurbjörg competed in the first tournament at Flúðir. She got 3rd place in the youngsters class on her mare Silfurdís.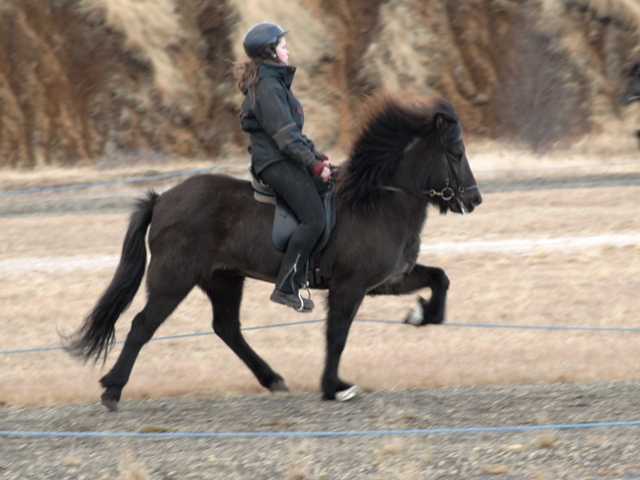 10. Feb. 2013.
For the first months of last winther we did not have much snow, however February started with a heavy snowfall and then it was ieal to take som photos og the horses.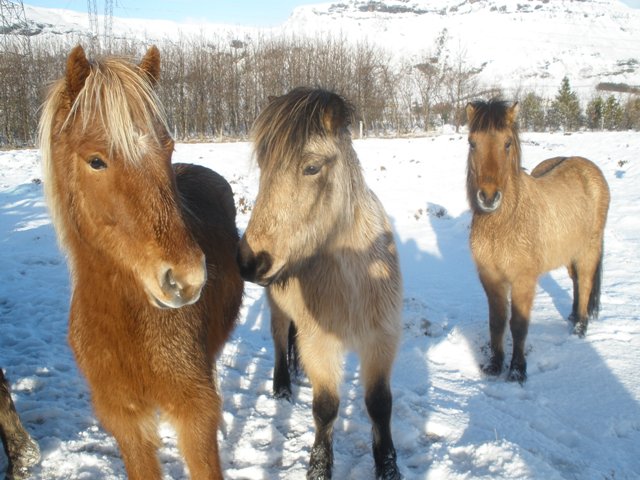 10. January 2013.
Already in January the horse training was in full action. We had a Danish girl who lives in Holland, Lotte Aagaard, to help us with the training. She was  hard-working and good trainer. Sigurbjörg Bára was also a great help to us when she had finished her homework and during weekends.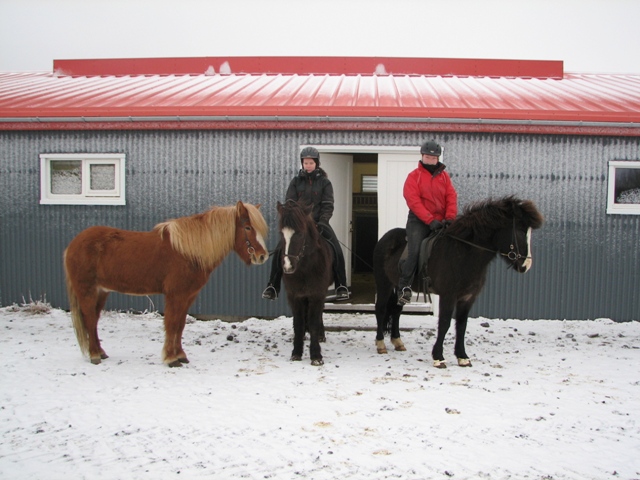 13. July 2013.